Local News
Fannin Literacy Council sponsors free Recycling Event Oct. 7
Oct 7, 2017
The Fannin Literacy Council is sponsoring their annual free RECYCLING Event to be held on Saturday, October 7 at the Fannin County Precinct 4 Barn located at 1369 E. Sam Rayburn Drive in Bonham from 9:00 a.m. to noon.
Your donations will help ensure proper recycling and save valuable landfill space.
This is the perfect opportunity for individuals to get rid of "stuff" around the house they no longer need or want. There are tons of items accepted, such as computers, printers, office equipment, microwaves, appliances, ATV's, lawnmowers, sporting goods, musical instruments, vacuum cleaners, power tools, sewing machines, books, toys, collectibles, cookware, and pottery.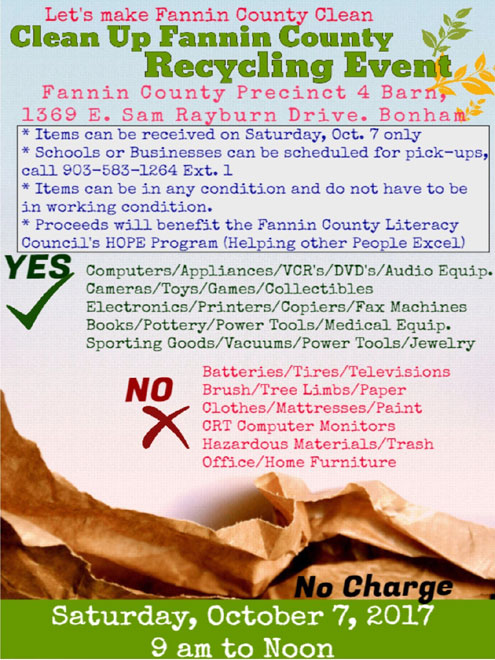 The items can be in any condition—damaged, non-working, or fully operational.
For your peace of mind, please delete personal information from your printers, computers and cell phones.
We are unable to accept clothes, furniture, hazardous materials, brush/tree limbs, CRT monitors, tires, televisions, mattresses, or household trash.
Items can be received on Saturday, October 7 only. However, pickups can be scheduled for schools or businesses with a large number of items. To schedule a school or business pickup, call 903-583-1264, extension 1.