Local News
Residents encouraged to vote to secure grant funding to help maintain McKinney Performing Arts Center
Oct 9, 2017
McKINNEY, Texas (Sept. 29, 2017) – McKinney's Main Street program has been named a participant of the Partners in Preservation: Main Streets campaign. The public is encouraged to vote daily at voteyourmainstreet.org to help Main Street McKinney secure $150,000 in grant funding to "Polish Our Gem" and help maintain the McKinney Performing Arts Center (MPAC). MPAC is the only building nominated in Texas and the only courtroom-turned-theater in the running, making this a truly unique opportunity for McKinney.
Partners in Preservation is a community-based partnership created by the National Trust for Historic Preservation and American Express to raise awareness of the importance of preserving historic places. The online voting portal, hosted by National Geographic Travel, is open through Oct. 31. Participants can vote up to five times each day.
"Our downtown is the heart of our city and offers a strong sense of place for our residents and the McKinney Performing Arts Center is the center of it all. It's where we gather to celebrate, watch shows and spend time with families and friends," said Amy Rosenthal, Director of McKinney Main Street. "By voting for McKinney you are contributing to help preserve our jewel of a building for future generations to enjoy."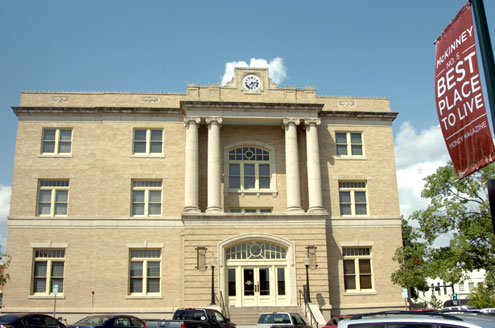 photo by Allen Rich
Main Street McKinney will host an open house event for the public on Oct. 6-7 called Historic Good Times in Downtown McKinney. Weekend activities include:
Friday, October 6
A free concert with Maylee and the Mayor along with special guest Jon Christopher Davis. Maylee Thomas and Mayor George Fuller will rock the Courtroom Theater with lots of fun giveaways. Reservations requested

Saturday, October 7
Head downtown for the block party from 11 a.m. to 3 p.m. and enjoy free entertainment, food and activities. There will be no street closures—all activities will occur on the MPAC lawn.

At 8 p.m. laugh along with Broadway's Next Hit Musical, an all-improvised comedy show where every song is fresh, every scene is new and every night is different. Tickets are $15-25.

For more information on McKinney Main Street, visit DowntownMcKinney.com.