Local News
Volunteers and Helping Hearts sworn in with CASA of Grayson County
Oct 1, 2017
Sherman -- On August 31, 2017, 8 volunteers and 6 Helping Hearts were sworn in with CASA of Grayson County in the 15th District Court. CASA now has 65 volunteers, which is the most volunteers CASA of Grayson County has ever had on their roster. Unfortunately, even though CASA is excited about their growing number of volunteers, 147 children are still awaiting a CASA due to the increased number of CPS removals.
CASAs are community volunteers dedicated to help ensure all children placed in protective care find safe, permanent homes where they can thrive. Some children reunite with parents or relatives, while others make a connection with adoptive parents. CASAs visit with their children monthly and have consistent contact with Child Protective Services, foster parents and other professionals involved in the court case. CASAs are their child's voice in the courtroom by testifying to their observations and contacts made throughout the case. Each CASA is allowed one Helping Heart to provide support and encouragement. A Helping Heart is a spouse or friend who attends confidentiality training but does not provide the same services as a CASA volunteer.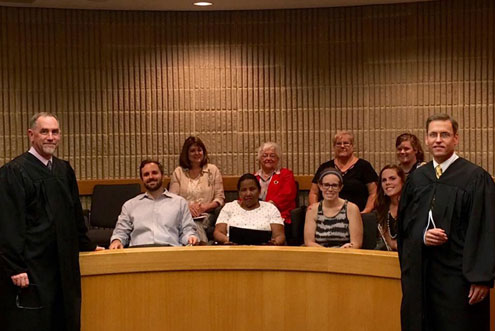 August 31 Swear-In Ceremony. Back Row: Bunny Luttrell, Charlotte Breeding, Marla Shaver, and Sally Shaver. Front Row: Judge Gary, Jordan Foreman, Cheryl Raymond, Ashley Rentfrow, Shawna Sandmann, and Judge Fallon.
CASA volunteers must be 21 or older, undergo a background check, must give at least a one year commitment, and take part in a personal interview. Volunteer advocates are patient, open-minded people who have good communication skills, a history of following through on commitments and a willingness to accept guidance. Above all, they care about children.
For more information about how to become a CASA volunteer please contact our office at 903-813-5400.