Lifestyles
Sherman Community Players' Sweeney Todd: The Demon Barber of Fleet Street opens Oct. 13
Oct 12, 2017
Sherman -- The Sherman Community Players launch its 69th season with the musical thriller Sweeney Todd: The Demon Barber of Fleet Street. Premiering on Broadway in the late seventies, writer and composer Stephen Sondheim redefined what audiences had come to expect with musical theatre.
"Todd" (played by Rocky Massey) follows the title character as he sets out to avenge his wrongful imprisonment and the loss of his wife and daughter. Along with his accomplice, local meat pie shop owner, Mrs. Lovett (played by Bonham's Lisa Avila) Sweeney finds his bittersweet revenge, and a new recipe for pies is uncovered. With a cast of over twenty and a full 16-piece orchestra SCP sets the bar high for the season opener.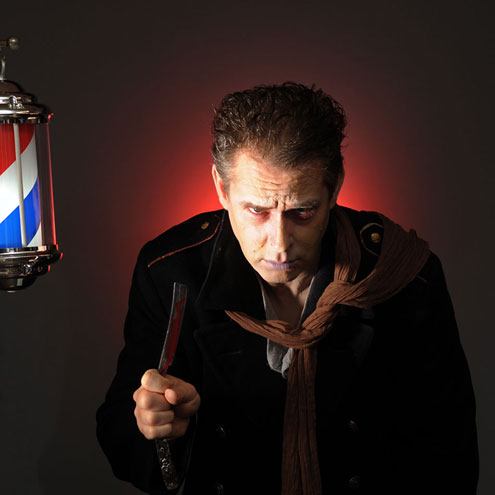 Rocky Massey as Sweeney Todd - photo credit: John Spears, Quin Studios
"We held auditions in late August and had nearly fifty people try out for the production. I find it amusing that so many people love this show, especially with its gruesome undertones, says Artistic Director of SCP Anthony Nelson. "But, I wanted to get back to playing to audiences whose favorite holiday is Halloween, like what we produced four years ago with Frankenstein and Dr. Jekyll and Mr. Hyde. Audiences are going to have a great time with this particular production, the script and score are excellent, the set is unique, the costumes are fantastic, and we created some fun moments where the actors encourage a little interaction with the audience," adds Nelson.

Tickets go on sale to the general public on October 11 beginning at 10:00 a.m. Season members have the option to reserve their tickets early on October 9 at 9:00 a.m., by calling the box office at 903-892-8818, or visiting www.scptheater.org, or even personally coming down to the box office which is open till 2:00 p.m. daily during the run of the production. Thursday night, October 12 is $10 preview night; the line begins forming outside of the Historic Finley Theater at 6:30 p.m.
Music & Lyrics by Stephen Sondheim
Book by Hugh Wheeler
Directed by Anthony Nelson
Music Direction by Fred Freeman
Choreographed by Amanda Pillow
Opening Oct. 13, 2017