Lifestyles
Keep McKinney Beautiful annual Trinity Trash Bash on Oct. 21
Oct 21, 2017
McKinney, Texas – Residents can help keep McKinney beautiful during the annual Trinity Trash Bash event hosted by the City of McKinney Saturday, Oct. 21.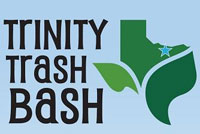 Registration is now open for residents, civic groups, schools, businesses, homeowner associations and faith-based organizations to pick up litter along roadways and creeks within the city during this community event. Students can earn community service hours, and Boy Scouts and Girl Scouts can earn patches.

To register, visit www.mckinneytexas.org/trinitytrashbash. Teams must register by Oct. 18. Please have a list of names and shirt sizes for members to enter during the online registration process. Shirts sizes are limited; every attempt will be made to provide the size requested, but substitutions may be made.

Team check-in will be from 8-9 a.m. in the stage area of Bonnie Wenk Park, 2996 Virginia Pkwy. Shirts, trash bags, gloves, and a detailed map of a specific area to clean will be provided to participating teams. After collecting trash from 9:15-11:45 a.m., teams will gather at Bonnie Wenk Park for a celebratory picnic lunch from noon to 12:30 p.m. sponsored by Waste Connections. Participants are asked to bring a blanket for the picnic.

The City of McKinney is a proud member of T.R.E.E.S., the Trinity River Environmental Education Society, and is committed to litter abatement as it relates to the Trinity River and its watershed. For more information, visit www.mckinneytexas.org/trinitytrashbash or call the City of McKinney Environmental Education office at 972-547-7335.