Local News
Eisenhower Birthplace State Historic Site to celebrate Ike's birthday with race and musical performance
Oct 13, 2017
DENISON – Come celebrate Dwight Eisenhower's birthday with the I Like Ike 5K Race and Fun Run, free activities and Birthplace tours, and a special show of 1940s music on October 14 at the Eisenhower Birthplace State Historic Site.
Registration for the I Like Ike 5K Race and Fun Run begins at 7:30 AM at the Eisenhower Birthplace. The race, which benefits the site and is a partnership with Denison Parks & Recreation, winds through Denison's downtown area. The Fun Run begins at 8:30 AM with the race starting at 8:45. Register at www.getmeregistered.com. For more information or to volunteer with the race call 903-465-8908.
Bring your lawn chairs and blankets and join us at 2:00 PM for a free outdoor concert of swing music on the lawn of the Eisenhower Birthplace, featuring singers and dancers from Shawnda Rains Entertainment Group. The performance is made possible by the City of Denison Main Street Program.
Denison Boy Scout Troop 605 will be serving free hot dogs at 12:00 p.m.
Wish Ike a happy 127th birthday with a free piece of cake, provided by the Hilton Garden Inn and Albertsons, at 1:00 p.m.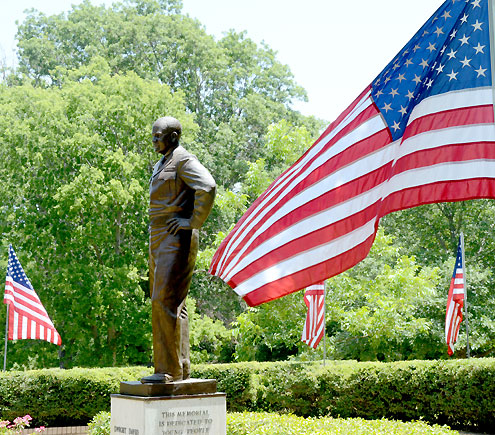 Free tours of the Birthplace House will be offered at 11:30 a.m., 1:30 p.m. and 3:30 p.m.
Other Eisenhower Birthday Celebration events will be happening throughout Denison:
Mary Jean Eisenhower, granddaughter of Dwight Eisenhower, will speak at the dedication ceremony for new bricks at 10:30 a.m. at the Eisenhower Monument.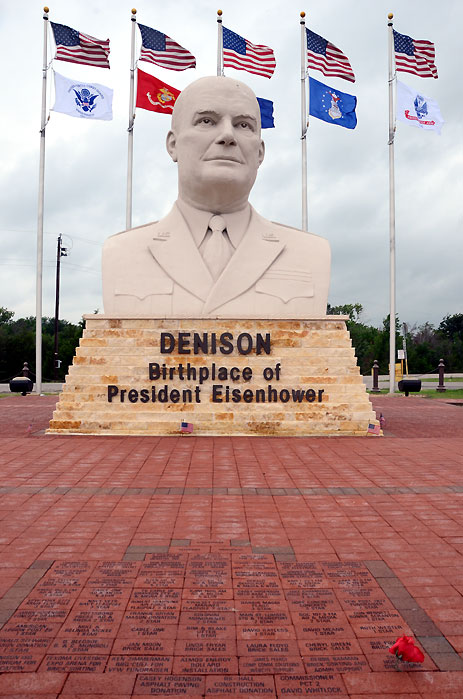 The monument is located at Highway 75 at North Loy Lake Road (exit 67). The Civil Air Patrol will provide the Color Guard and the Scott Middle School band will be performing.
The Wall of Honor, a tribute to local veterans, will be open at the Red River Railroad Museum (101 E. Main Street, #145). It is open 11:00 a.m. – 4:00 p.m. Thursday through Saturday and 1:00 p.m. - 4:00 p.m. on Sundays throughout October.
The Perrin Air Force Base Museum at 436 S. McCullum Avenue will be open from 9:00 a.m. to 4:00 p.m.
The Eisenhower Birthplace State Historic Site is located at 609 S. Lamar Avenue in Denison. Please call 903-465-8908 for additional information.