Sports
Bonham High School cross country teams complete regular season schedule
Oct 9, 2017
The Bonham High School cross country teams wrapped up their regular season schedule on Thursday at the 7th annual Blue Ridge Tiger Trail Invitational. The varsity boys squad had a season-best performance, earning 1st place in the overall team standings.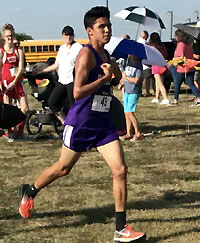 After a handful of 2nd place finishes this season, Tony Cruz won the boys division with a time of 17:18, followed by Jacob Campbell (3rd), Tanner Reaves (6th), Nik Spiller (22nd), and Tristen Singleton (33rd).

Said Longoria finished 2nd overall in the JV boys division, followed by Randy Arris (11th) and Matthew Vankirk (16th).

Samantha Hodge once again led the varsity girls team, finishing 13th overall in a field of 55 runners. The JV girls had a strong showing as well, as Perla Flores (6th) and Reese Davis (8th) each brought home medals for the Lady Warriors.