Lifestyles
Bonham Community Band has openings for brass, wind, and percussion players
Oct 10, 2017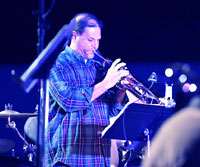 Bonham -- The Bonham Community Band will begin rehearsing Christmas carols to be played at the Christmas Festival/Tree Lighting Ceremony on Saturday, November 18. The band will be accompanied by a community choir directed by Mr. Robert Wegman of 1st Baptist Church.

The band has a few openings for brass, wind, and percussion players. Anyone with high school or college band experience is welcome to join the fun.

Rehearsals are held on Thursday evenings at 6:00 p.m. at the Bonham Civic Center, (the Armory) 100 W. 5th in Bonham. Call Mr. Dale Sterzer at 903-583-9120 for more information.