Sports
Trail cameras make scouting easy...and fun!
Oct 9, 2017
I won't kid you; one of the more exciting aspects of my scouting for game occurs the instance I plug the SD card from my trail camera into the card reader or my computer and begin looking at the images captured from the remote locations of the area where I'm hunting. I have absolutely no idea of the images my cameras might have recorded while strapped to that tree way back in the woods.
Through the years, while reviewing trail camera photos, I've discovered some very interesting images. Whatever walks or flies in front of the camera is photographed and I have pictures of everything from bobcats to great horned owls and even a human intruder or two that crossed over onto posted property.
Most of today's state-of-the-art trail cameras offer options for either still photos or video and I am a big proponent of using both modes, depending upon just what I am attempting to accomplish. While many hunters set their trail cameras only around feeders, I often set mine around signs such as game trails, buck rubs and scrapes or possibly a remote pond, creek or water hole with wild hog sign. I've found video mode best in these situations. The video mode triggers the instant the animal/animals approach and continues running for a pre determined time. This usually gives enough time to really study the animal observed.
My favorite all-around trail camera is the Mirage 16 Lightsout by Wildgame Innovations. These cameras are mid-ranged in price but with a half-second trigger time and 60 foot sensor range, they do a great job of scouting day and night while I am back at work writing article or recording my radio programs. I keep my cameras set for high resolution just in case they capture an image of "print" quality. With 16 MP, these cameras are actually higher in resolution that the camera I use in my work taking wildlife pictures. I've actually used trail camera images in magazine and newspaper articles.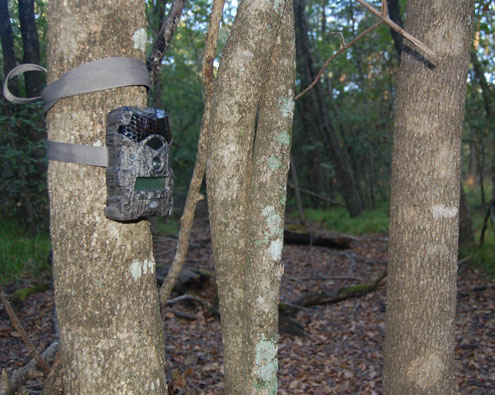 Trail cameras are very useful tools for patterning game. Luke has found his cameras by Wildgame Innovations to be rugged and dependable. This camera is set on a trail that deer have been using on a daily basis. (photo by Luke Clayton)
While these crystal clear images are not really necessary for observing game movements, there is absolutely no reason not to take advantage of today's technology and enjoy great photographs, even though a machine automatically triggered the shutter! Technology has come a long, long way since I put my first trail camera to work several decades ago. A company in Louisiana, I believe, sent me a 35 mm film trail camera to test and at the time, I thought it to be the epitome of cutting edge technology. I remember pulling the roll of film and waiting a couple of days to get the pictures developed. As I remember, this prototype "film" camera came with a pretty hefty price tag, comparable to what today's awesome digital cameras cost and, that's factoring in the gigantic cost of living increases since the early eighties.
While I've found the video mode best to capture wildlife that is on the move; deer working scrapes or rubs or wild hogs moving down a trail or around water, the camera or "still" mode is best used around feeders. Game usually stays around a feeder or feed station for several minutes. In these situations, I've found it best to adjust the timer setting so that the camera triggers every few seconds rather than one frame per second.
While trail cameras have become a great aid in scouting for deer and other wildlife, nothing takes the place of the age old art of "reading sign." Unless a hunter monitors only the area around his feeder with a trail camera, being able to read the signs of wildlife is still very important when it comes to locating a place one wishes to monitor. A trip to the patch of woods I hunt last week is a good case in point. I have a spot in a little patch of red oaks where I "hand bait" deer and hogs by scattering corn. My camera that monitors the area has witnessed only hogs for the past several months.
About eighty yards from this spot, I noticed a buck rub line, probably made recently by one or possibly more bucks rubbing velvet from their antlers. I put a trail camera alongside this trail and the next day, captured the image of a young six pointer and a mature eight, still running together as they often do during early bow season.
For reasons unknown to me, these whitetails are not "hitting" my corn nor the acorns under the red oaks near my feeding spot, possibly it's because of the heavy wild hog activity in the area. Regardless, I now have a ladder stand situated within 25 yards of this new trail that I discovered. Without my game camera showing almost daily use of the trail by the deer, I would have never known to set up a new spot to hunt!
Yep, I don't think I could make it any more with my trail cameras! Knowing the game is there is a great confidence builder which really helps keep me on stand for extended periods!
Listen to "Outdoors with Luke Clayton and Friends" on radio stations from Nebraska to Texas on weekends or anytime online at www.catfishradio.com