Sports
SMU exhibit highlights baseball's golden years: 1947-57
Oct 12, 2017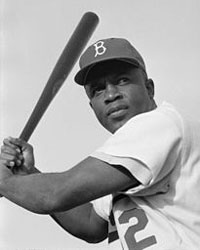 DALLAS (SMU) – A new SMU DeGolyer Library exhibit commemorates the golden age in baseball history, during which the three New York teams – Yankees, Dodgers, and Giants – dominated the standings with some of the most memorable and talented players and managers of all time, including Jackie Robinson. The exhibit, "Jackie Robinson, the Brooklyn Dodgers, and a Pivotal Era 1947-57," runs through Dec. 8 at the Hillcrest Exhibit Hall in Fondren Library, 6404 S. Hyer Lane, SMU.

Brooklyn Dodgers collectors Bernie and Ann Parker donated many of the exhibit items to DeGolyer, including pennants, baseball cards, programs, photos, bats, gloves and two seats from the Dodgers' Ebbets Field. This year marks the 70th anniversary of Jackie Robinson's historic entry into major league baseball.

"Jackie Robinson, The Brooklyn Dodgers, and a Pivotal Era 1947-57," is free and open to public, 8:30 a.m. to 5 p.m., Monday-Friday. For more information visit https://www.smu.edu/CUL/DeGolyer/Exhibits/Baseball.