Religion
Heroes reunited in service
Oct 20, 2017
In recent weeks we have read many stories of rescue and service from relief efforts associated with Hurricane Harvey. People from around the country have come together to offer help in many ways to those who were flooded.
John Wyatt was one of many individuals who saw a disaster unfolding and took it upon himself to go to the rescue. A Durant Police officer, he had skills and training that would prove useful in the coming days.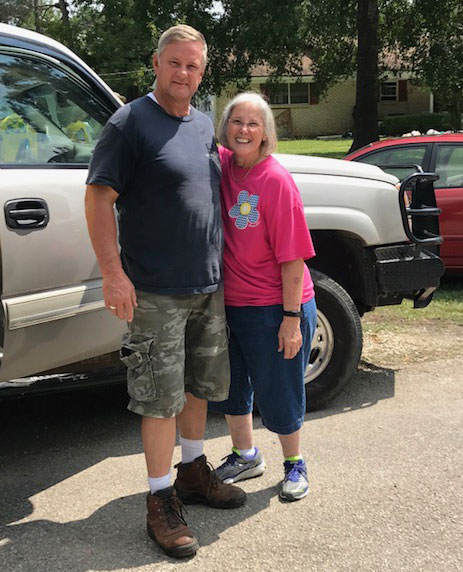 John Wyatt (left) stands beside a victim of Hurricane Harvey.
John had worked during Hurricane Katrina and was ready and willing to help again. With his brother, son and nephew, as well as their two boats, he drove from Durant, OK to Houston and then Beaumont, TX. Local emergency crews were overwhelmed with requests for help, and private citizens from surrounding areas were instrumental in early rescue efforts. John and his brother started saving people who were stranded in their flooding homes.
They started in the Woodlands, and then moved down to the Beaumont area as they realized that rescue teams had not been able to help these residents yet. National news crews from CBS and Fox News traveled with the boats and recorded John's efforts over the next few days. From morning until late in the night he and others worked tirelessly to help where they could. Then, when he was no longer needed for water rescues, he brought his boat home.
John wasn't finished serving, however. He realized as he traveled through the Beaumont area that people needed water to drink right away. As soon as he got home, he loaded 80,000 pounds of water into trailers and drove it down to hand out.
"As I worked in Beaumont, I got to know the people and wanted to help them as much as I could" John commented.
As a member of the Durant Ward of the Church of Jesus Christ of Latter-day Saints, he had yet another opportunity to volunteer with other members of his congregation to assist residents in Houston and the surrounding areas once the water receded enough for residents to return. The Church of Jesus Christ of Latter-day Saints was assembling teams from its congregations across the region, totaling over 10,000 individuals per weekend, to travel to South Texas each of the next several weekends.
When John arrived in South Texas, along with the thousands of other volunteers, he was organized into a work crew that was sent into a neighborhood to offer assistance to anyone who needed it. Amazingly, John, along with four generations of his family – including his father, his son and two grandchildren – were sent to one of the exact same neighborhoods that he had driven his boat through weeks before. The water levels had dropped and he didn't recognize where he was at first. It was only when residents began calling him by name, wanting to take pictures with him and thank him that he realized where he was. Several of the homes his crew was assigned to help were residents that he had rescued from the rising water, including an elderly WWII veteran. They were excited to see their hero, and John was glad he could help them yet again.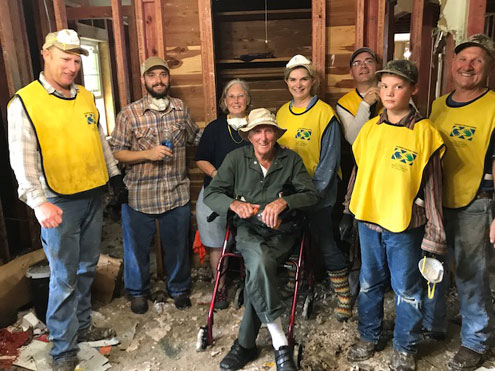 Durant volunteer work crew and WWII vet in a home being cleaned out.
John is active in his local community and ready to help when he sees a need. We are fortunate to have him and many others like him here in North Texas.
The Church of Jesus Christ of Latter-day Saints teaches its members to render Christian service to those around them who need help. In local communities and abroad, the church is involved in relief efforts during disasters and in an ongoing way as well. Mormon Helping Hands is the disaster relief arm of the church's humanitarian aid organization. Members from surrounding areas volunteer to come to a site and spend a weekend on a work crew doing free service for residents who need help. This could include, in the case of Harvey relief efforts, mucking out, or removing, ruined home contents and sheet rock. This helps preserve the home for future repairs and removes most of the mold that grows quickly in wet conditions.