Local News
VA to host 27th Anniversary Regional Veterans Day Celebration at Warrior Stadium
Nov 8, 2017
BONHAM, TEXAS – Sam Rayburn Memorial Veterans Center and City of Bonham will host the 27th Annual Regional Veterans Day Program, Thursday, November 9, 9:30 a.m., at Bonham High School Warrior Stadium.
Colors will be presented by Paralyzed Veterans of America (PVA) color guard. Additional program performances will include the Bonham High School Band and PVA wheelchair rifle volley. Military vehicles from the Military Vehicle Preservation and Historical Club from Sherman will be on site.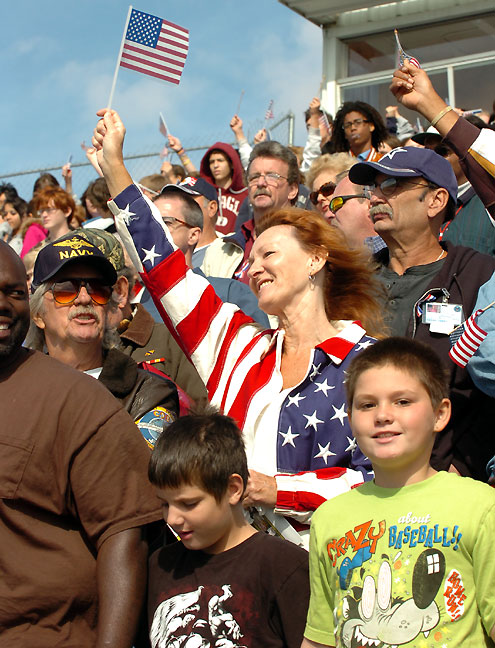 Guest speaker will be U.S. Marine Corps veteran Larry Hinkle. During his three deployments 2000-2004, Hinkle was assigned to a security detail for the U.S.S. Cole hours after it was bombed in the Gulf of Aiden near Yemen. He was part of the Amphibious Ready Group in the Pakistan/Afghanistan Region, and then Iraq for the initial invasion in 2003.
In 2016, he began a journey to increase awareness for our nation's Veterans and first responders. Beginning at Camp Lejeune, NC, he walked 2,600 miles across America. Stopping at VA facilities, State Veterans Homes, police and sheriff departments, fire stations, and Veterans Service Organizations, his mission was to feed over 1,000 veterans and first responders. "The Hump" ended at Camp Pendleton, Calif. where he was previously stationed.
Hinkle continues to honor first responders and veterans to help those with a disability or transitioning from military to civilian life.
The Veterans Day event is a grand opportunity for Bonham and surrounding communities to honor veterans and serves as an educational opportunity for students to learn more about veterans and their sacrifice for our freedom throughout history.
For more information, contact Tina McDaniel in Voluntary Service at 903-583-6282.