School News
Making a big splash: SMU dedicates Robson & Lindley Aquatics Center
Nov 4, 2017
New home honors championship legacy
of SMU swimming and diving
DALLAS (SMU) - SMU will dedicate the Robson & Lindley Aquatics Center, the new home of SMU's international championship swimming and diving programs, at 3:00 p.m. Friday, November 3.
The 42,000 square foot center, located on the University's east campus at 5550 SMU Blvd., makes a big splash in Division I swimming and diving with facilities, coaching and training technology designed to prepare men's and women's swimmers and divers for the highest level of competition. The center also is designed to host community events such as swim meets, swim lessons, and Master's swimming programs. SMU hosts its first meet at the center against LSU at 7:00 p.m. following the dedication.
The Aquatics Center natatorium features an indoor Olympic-sized pool configured for eight 50-meter competition lanes or twenty-two 25-yard lanes. Its platform diving well boasts a 10-meter diving tower with four springboards. The natatorium also features seating for 800 spectators on the mezzanine level. Three large high-definition video boards across from the seating area display swimming times, live video or graphics and swimming and diving scores.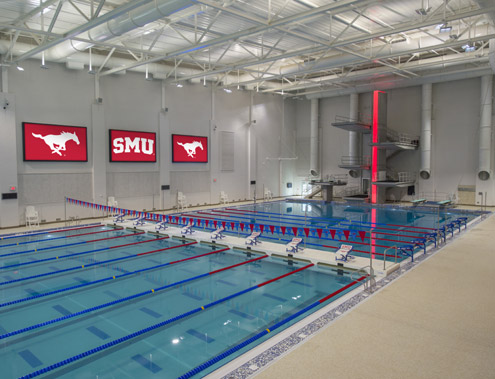 The SMU swimming and diving programs share a proud history, highlighted by the menís and womenís team members qualifying for 109 Olympic appearances and earning 16 Olympic medals since 1952. The teams have won 58 conference championships and have qualified for 95 appearances at the NCAA National Championships, earning 155 national titles.
What: SMU Robson & Lindley Aquatics Center Dedication
When: 3 p.m. Friday, Nov. 3
Where: 5550 SMU Blvd., Dallas