School News
Austin College president nears completion of week one
Nov 4, 2017
Sherman, Texas -- Steven P. O'Day, J.D., has nearly completed his first week of leadership at Austin College, having begun his tenure as the 16th president of the 168-year-old private liberal arts college on Monday, October 30.
This past weekend, O'Day met with the college's board of trustees during its annual fall meeting and completed the move into the president's home on Grand Avenue. Among his earliest activities this week was an email to faculty and staff of the college that thanked the entire community for the welcome he and his wife, Cecilia "Cece," have received. Though introduced to the campus community in late August as the next president, he did not officially begin work until this week.
"Over these last two months, I have been reviewing reports; speaking with members of the board, faculty, staff, and students; and meeting with friends of the college to discover as much as possible about this very special place," he wrote. "What I see is an extraordinary community dedicated to transforming students so that they can transform the world. The Austin College mission, 168 years in the making, is my mission. Together, I have no doubt that we will launch Austin College into the future with confidence and strength."
His email did acknowledge plenty of work ahead, but work that the community is able to accomplish. "I see our path forward as one rich with opportunities but not without its challenges. I look forward to tackling those challenges, together, with an unshakable resolve and celebrating our successes for years to come."
The president also had a written message—and encouragement—for students. "With the fall semester speeding along, I know you are working hard on your studies. Keep it going! While you are doing that, I will continue to study, too, and do whatever I can to make Austin College the very best it can be for years to come. This is a special place, and I look forward to working with all of you to see to it that Austin College continues as one of the nation's truly great liberal arts colleges."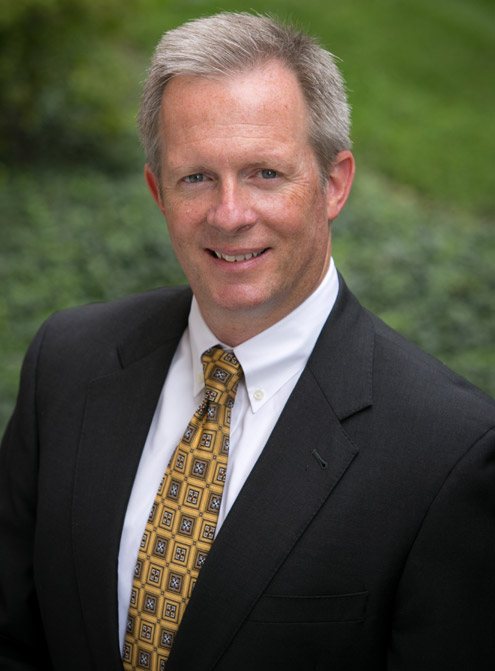 Steven P. O'Day, J.D.
O'Day said he looks forward to meeting students while walking across campus and during athletic events, performances, and special events. One opportunity to meet many students happens this Saturday at the College's Great Day of Service. President O'Day and Cece plan to work alongside students at one of the 40-plus community sites throughout Grayson County where approximately 400 students are expected to volunteer Saturday morning.
Before taking the Austin College position, O'Day had been a member of the senior leadership team at Lebanon Valley College (LVC) in Pennsylvania, where he most recently served as vice president of strategic initiatives and secretary of the college. During his four years at LVC, he also served as interim vice president of advancement and special assistant to the president as well as leadership roles in institutional strategic planning and campus master planning. He managed several major capital improvement projects, including the construction of a $20.8 million facility to house several of the college's health professions academic programs. O'Day was instrumental in record-setting fundraising efforts and government and community relations efforts at LVC also.
Prior to his work at LVC, O'Day spent 15 years at Franklin & Marshall College in Lancaster, Pennsylvania, in a number of senior leadership roles.
Austin College, a private national liberal arts college located north of Dallas in Sherman, Texas, has earned a reputation for excellence in academic preparation, international study, pre-professional foundations, leadership development, committed faculty, and hands-on, adventurous learning opportunities. One of 40 schools profiled in Loren Pope's influential book Colleges That Change Lives, Austin College boasts a welcoming community that embraces diversity and individuality, with more than 40 percent of students representing ethnic minorities. A residential student body of approximately 1,275 students and a faculty of more than 100 allow a 13:1 student-faculty ratio and personalized attention. The College is related by covenant to the Presbyterian Church (USA) and cultivates an inclusive atmosphere that supports students' faith journeys regardless of religious tradition. Founded in 1849, the College is the oldest institution of higher education in Texas operating under original name and charter.