School News
Austin College senior discusses Bamberger Ranch internship
Nov 7, 2017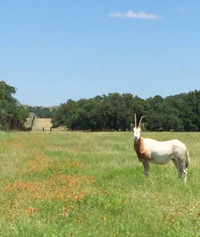 Sherman, Texas -- Austin College senior Christine Rottler will be the featured speaker at the Environmental Studies Lunch Talk at noon on Tuesday, November 14, in Wright Campus Center, Room 231. She will discuss her summer 2017 internship at Selah Bamberger Ranch in Johnson City, Texas.

Rottler is a biology major and English minor from Rowlett, Texas.

The internship interested Christine because she took Dr. Peter Schulze's Prairie Restoration January Term during 2017. Students worked at Sneed Prairie every day and prepared in the classroom and the field to set controlled fires that were part of a regular conservation and restoration effort at the site. She really enjoyed this experience, and Dr. Schulze recommended that she look into environmental studies internships, where she ultimately found Selah Bamberger Ranch to be a good fit.

Her internship was six weeks long and she performed a range of jobs, such as removing ant piles and poison ivy to larger jobs such as maintaining trails and clearing brush. She also had the opportunity to serve as a camp counselor for two weeks of the internship in a camp for 9 to 11 year olds for three days, one for 12 to 14 year olds for 5 days, and an adult overnight camp. Christine stayed in the cabin with the campers and led them on activities and adventures. She said that the internship really helped focus her career plans. "I made connections there that I plan to use after college," she said. "I hope to find a job similar to this one, where I can work outside on a restoration project while also contributing to the education of future scientists."

Selah, Bamberger Ranch Preserve is a 5,500-acre ranch in Blanco County that has been restored to its original habitat. The mission is to teach ethical land stewardship—by example and outreach through seminars for landowners and through service as a research lab for botanists, zoologists, and other scientists. The ranch also offers hands-on science classes and nature camps for school children and provides public tours and workshops.

Austin College, a private national liberal arts college located north of Dallas in Sherman, Texas, has earned a reputation for excellence in academic preparation, international study, pre-professional foundations, leadership development, committed faculty, and hands-on, adventurous learning opportunities. One of 40 schools profiled in Loren Pope's influential book Colleges That Change Lives, Austin College boasts a welcoming community that embraces diversity and individuality, with more than 40 percent of students representing ethnic minorities. A residential student body of approximately 1,275 students and a faculty of more than 100 allow a 13:1 student-faculty ratio and personalized attention. The College is related by covenant to the Presbyterian Church (USA) and cultivates an inclusive atmosphere that supports students' faith journeys regardless of religious tradition. Founded in 1849, the College is the oldest institution of higher education in Texas operating under original name and charter.