School News
Austin College German students mark 500th anniversary of Reformation
Nov 12, 2017
Sherman, Texas -- The Embassy of the Federal Republic of Germany in Washington, D.C., selected Austin College to participate in Campus Weeks this fall and provided funding for activities to mark the 500th anniversary of the Reformation.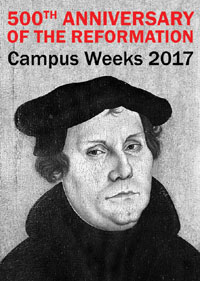 Five-hundred years ago, on October 31st, 1517, Martin Luther famously claimed that salvation could be reached through faith and by divine grace only. He posted 95 theses on the door of All Saints' Church in Wittenberg, Germany. With the goal to spark an academic discussion, his action eventually led to a historic and theological upheaval that changed the Western world fundamentally. Luther's Bible translation from 1534, was the first complete translation in German and had a major impact on the development of what would become modern mass media.

"We live in a world where we continuously participate in and witness a fast-moving media revolution that significantly impacts how we think and how we act," said Ruth Cape, Austin College German faculty and coordinator of the Campus Weeks events. "In Luther's time, it was the newly developed printing press that revolutionized how information spread since pamphlets were now mass-produced and widely distributed, thus quickly morphing into a powerful tool of mass propaganda that led to tremendous social changes in Germany and elsewhere."

The College German program is hosting several activities early in November including an on-campus photo contest with an oversized Playmobil Martin Luther figure as the subject, a "Koffee und Kuchen" at the Jordan Family Language House, including a German-style baked goods contest before a tea-and-cake event. On Thursday, November 9, students are invited to craft lanterns in the Jordan Family Language House, followed by a lantern parade.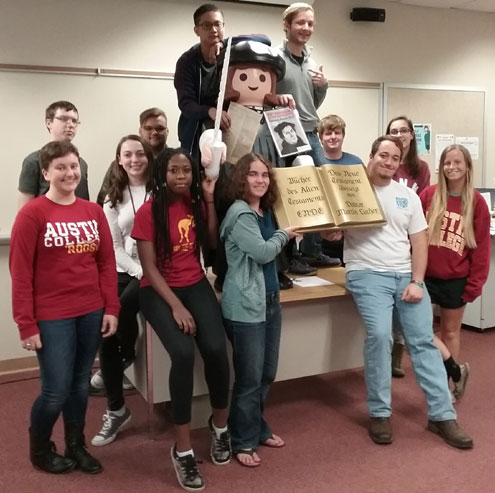 Austin College, a private national liberal arts college located north of Dallas in Sherman, Texas, has earned a reputation for excellence in academic preparation, international study, pre-professional foundations, leadership development, committed faculty, and hands-on, adventurous learning opportunities. One of 40 schools profiled in Loren Pope's influential book Colleges That Change Lives, Austin College boasts a welcoming community that embraces diversity and individuality, with more than 40 percent of students representing ethnic minorities. A residential student body of approximately 1,275 students and a faculty of more than 100 allow a 13:1 student-faculty ratio and personalized attention. The College is related by covenant to the Presbyterian Church (USA) and cultivates an inclusive atmosphere that supports students' faith journeys regardless of religious tradition. Founded in 1849, the College is the oldest institution of higher education in Texas operating under original name and charter.