Lifestyles
Austin College presents 'An Evening of Chamber Music and Jazz'
Nov 13, 2017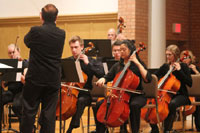 Sherman, Texas -- The Austin College Department of Music will present the annual fall concert of instrumental ensembles under the direction of Dr. Ricky Duhaime in "An Evening of Chamber Music and Jazz" on Monday, November 13, at 7:30 p.m.in Wynne Chapel on campus. The event is free and open to the public. For more information, contact the Music Department at 903.813.2251.

This first half of the concert will be presented by the Austin College Chamber Orchestra, performing a contemporary American composition, "Abendstern" by Lauren Bernofsky, and the singular "Concerto for Two Cellos" by Antonio Vivaldi. Austin College senior Megan Chiu and freshman Jacob Martin are the cello soloists in the Vivaldi concerto.

The second half of the concert will feature the Greater Texoma Jazz Ensemble performing a variety of big band charts in both traditional and contemporary styles. The concert will feature jazz soloists James Carter, alto saxophone; Mason Bird and Reese Brentzel, tenor saxophones; Jesse Speer and Michael Waters, trombones; John Vietta and Andrew Gregg, trumpets; Phil Pitts, piano; Greg Smith, guitar; and Richard Burleson, drums.

The Chamber Orchestra is comprised of Austin College string students, joined this semester by community members John McGinn and Greg Hendrix. The orchestra's students represent majors and minors across many academic disciplines and varying professional goals but a continuing interest in music.

The Greater Texoma Jazz Ensemble consists of students, faculty, and adults from throughout the region, with performance venues this semester in Denison, Sherman, and Bells High Schools in addition to Austin College.

Austin College, a private national liberal arts college located north of Dallas in Sherman, Texas, has earned a reputation for excellence in academic preparation, international study, pre-professional foundations, leadership development, committed faculty, and hands-on, adventurous learning opportunities. One of 40 schools profiled in Loren Pope's influential book Colleges That Change Lives, Austin College boasts a welcoming community that embraces diversity and individuality, with more than 40 percent of students representing ethnic minorities. A residential student body of approximately 1,275 students and a faculty of more than 100 allow a 13:1 student-faculty ratio and personalized attention. The College is related by covenant to the Presbyterian Church (USA) and cultivates an inclusive atmosphere that supports students' faith journeys regardless of religious tradition. Founded in 1849, the College is the oldest institution of higher education in Texas operating under original name and charter.