Front Page
Concerns voiced over sand mining in Fannin County
Nov 14, 2017
Bonham -- "There has to be a change in legislation."
That statement by Faye Wedell summed up what seems to be the only real hope Fannin County residents have to mitigate the effects sand mining is having on this rural county.
Approximately 40 residents of Fannin County filled the T.E.A.M. Center in Bonham on Thursday, November 9, 2017, to voice concerns over the impact large-scale sand mining operations are having in the northwest quadrant of the county.
State Senator Bob Hall attended the meeting and listened to a litany of complaints regarding sand mining and the vehicles that transport sand, including one resident's insistence that DPS Troopers in Grayson County are patrolling the routes commonly used by sand trucks far more frequently than in Fannin County.
"I will talk to DPS to see if and why they are treating sand trucks differently in Grayson County," Sen. Hall promised.
The state senator also said that he would try to schedule hearings before the Business and Commerce Committee as well as the Committee on Agriculture, Water & Rural Affairs.
County residents feel their best opportunity to present evidence and testify would be in front of the Committee on Agriculture, Water & Rural Affairs because Hall is a member of that committee. If Hall is successful in scheduling a hearing, it could come anytime during the 140-day session beginning January 2018.
State Senator Bob Hall
Approximately 5,000 acres in northwest Fannin County have been purchased or leased by large-scale sand mining operators including N-Tex, Resolved Aggregates, and Martin Marietta, which actually mines in Oklahoma and pumps the sand under Red River to a plant on the Texas side of the river, where it is transported to contractors.
Residents are concerned about safety on two-lane Farm to Market roads that were not built to accommodate heavy truck traffic, noise and air pollution, disruption of rural communities, as well as hydrology of Red River. Hydrology is the scientific study of the movement, distribution, and quality of water. In an area where some homesteads are dependent upon shallow water wells, deep, open pits that hold water at the sand mines are a concern.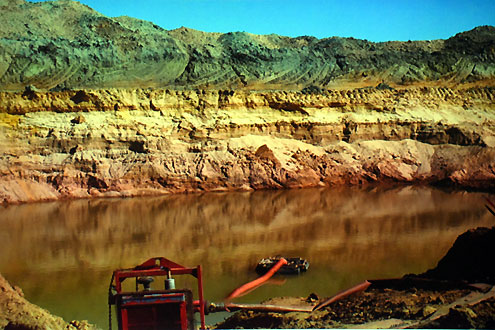 Counties with fewer than 50,000 residents have no power to zone and these counties operate largely under the mandate of the state legislature. In 2016, Fannin County Commissioners Court passed a resolution calling for state legislation that would require reclamation of the land by mine operators. To date, however, the request has failed to gain traction in Austin.
While this meeting focused primarily on large-scale sand mining operations in the northwest quadrant of Fannin County, Velma Jones had a warning to other county residents --- "If you live east of us....look out."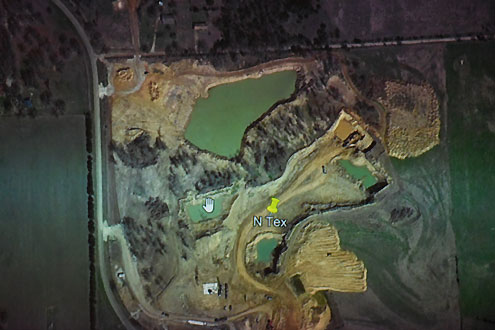 Jarrett Tucker provided Google Earth images that show how much larger sand mining operations have gotten in recent years.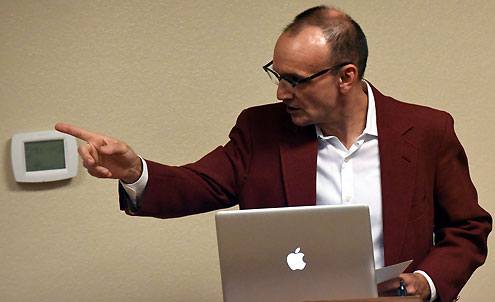 Alan Richard, past president of Citizens Organizing for Resources & Environment (C.O.R.E.), facilitated the discussion.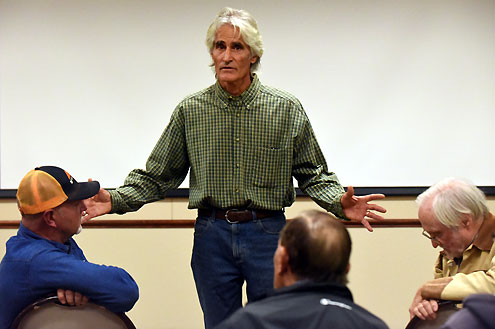 Scott Lipsett, C.O.R.E. board member, addresses the crowd.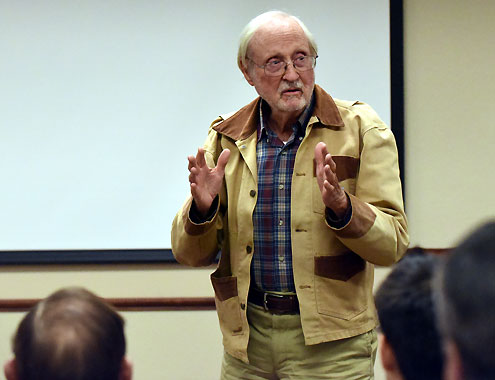 "Until TCEQ can take seriously our complaints, there is little we can do," Gregory Hall tells concerned residents of Fannin County.
photos by Allen Rich