School News
Southeastern recognizes Top 10 Freshmen
Nov 23, 2017
DURANT, Okla. – Southeastern Oklahoma State University recognized the 2016-17 Top Ten Freshmen during a ceremony Thursday in the Glen D. Johnson Student Union Auditorium.
The honorees were selected by a committee consisting of representatives from faculty, student government and University administration. The Top 10 Freshmen have a collective 3.84 grade-point average and are involved in numerous campus and community activities.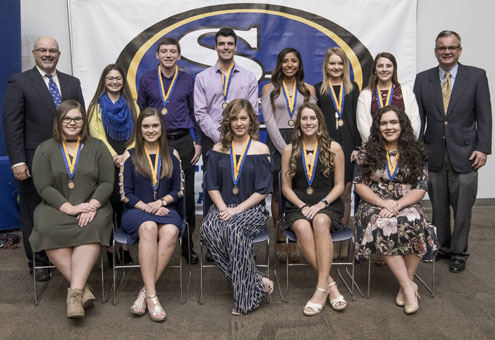 Gathering at the Top 10 Freshman event Thursday were, back row, left to right, Dr. Tim Boatmun, Luana Antuono (SGA president), Nate Hodson, Tyler Shade, Symphoni Shomo, Sarah Winnett, Brooklyn Daniel, and president Sean Burrage. Front row, Olivia Voss, Brianna Pierce, Shalee Buzan, Blakelyn Daniel, and Katelynn Hester.
The 2016-17 Top 10 Freshmen are:
Shalee Buzan, communication major from Idabel; twins Blakelyn Daniel, biology/chemistry, and Brooklyn Daniel, graphic design, Atoka; Katelynn Hester, history with social studies certification, Broken Bow; Nate Hodson, finance, Durant;
Brianna Pierce, biology, Kingston; Tyler Shade, communication, Durant; Symphoni Shomo, psychology, Tahlequah; Olivia Voss, English Education, Idabel; and Sarah Winnett, Elementary Education, Colbert.
Southeastern president Sean Burrage congratulated each recipient.