Obituaries
Kenneth 'Sonny' Wayne McDonald
Nov 13, 2017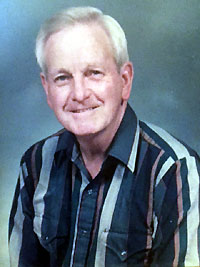 Bonham, Texas -- Funeral services for Kenneth "Sonny" Wayne McDonald, 83, of Dodd City, Texas will be held on Thursday, November 16, 2017 at 1:00 p.m. at Wise Funeral Home Chapel in Bonham, Texas. Officiating will be Rev. Mike Haney. Interment will follow at Willow Wild Cemetery in Bonham, Texas. Kenneth passed away peacefully on November 11, 2017. He was born January 21, 1934 in Bonham, Texas to Melvin E. McDonald and Bessie Vassar McDonald.

Kenneth graduated from Bailey High School. He began working at General Cable in 1959, and was employed there for over 30 years. After retirement, he immediately went to work for Smith-Moore-Williams, where he worked for 14 years, and then he joined Fix & Feed, where he worked for 6 years. He enjoyed electronics, working in the yard and gardening. He loved football, especially the Dallas Cowboys, The Gaithers, gospel music and country music.

Kenneth was preceded in death by his parents; son, Kyle L. McDonald; sisters, Peggy McDonald Beleele and Billie McDonald London Davis; nephew, Mike London, and very special friends, Earl Kennedy and Jeff Kennedy.

Surviving are his daughter, Kimberly (Kim) C. McDonald of Dallas, TX. Other surviving family include, very special niece, Kathy McGee of Seabrook, TX; nieces Gayla Darby of Plano, TX and Karen Beleele of Cullowhee, NC; very special friend, Lois Kennedy of Bonham, TX and the mother of his children, Pat Cobern Stanley of Bonham, TX

Active pallbearers will be Dana Weeks, Art Halleen, Johnny Hilliard, Rickey Granstaff, Gary Stanley, Brian Adams and Raymond Perez. Honorary pallbearers will be Joe Call and Richard Keene.

The family will receive friends at 12:00 noon (1 hour prior to service) on Thursday, November 16, 2017 at the Wise Funeral Chapel.

Kim and Pat would like to extend a special thank you to the nurses and aides at TMC – Denison, and to everyone at Home Hospice in Sherman, Texas. Donations may be made to any Animal Rescue organization of your choosing.

An online guestbook is available at www.wisefuneralhome.com.