Lifestyles
The Red Party: Casanova's Carnevale at Kimbell Art Museum
Dec 1, 2017
Friday, December 1, 2017
8:30 p.m.--Midnight
FORT WORTH -- Art patrons are invited to a night of youthful exuberance, decadence and mystery in celebration of Giacomo Casanova, the legendary lover, at the Kimbell's "Red Party" on Friday, December 1, from 8:30 p.m. to midnight. Fort Worth's biggest art event of 2017, the Red Party encourages attendees to dress in the signature color of the internationally renowned architect Renzo Piano, celebrating the stunning building that opened in 2013.
The event features music and dancing with DJ S.O.U.L.Jah, drinks, hors d'oeuvres, a silent auction and admission to Casanova: The Seduction of Europe. All of the event's proceeds will benefit Kimbell Kids, the Museum's art education programs that provide free learning experiences to thousands of North Texas families each year.
Reservations to the Red Party are open to Museum members and the public. Tickets are $200 per person. Sponsor packages with a wide range of benefits are also available. Ticket orders can be placed at 817-288-3224 or www.kimbellart.org/theredparty.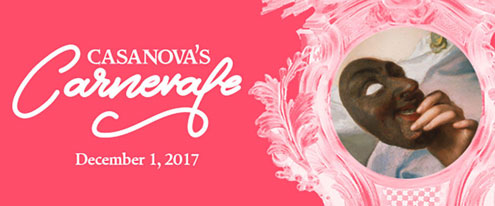 Major support for this event is provided by Worthington National Bank. Additional support is provided by CN Catering, Debra Stevens Custom Framing, Grand Events and Party Rentals, LeForce Entertainment, One Stop Printing and William Campbell Contemporary Art.

Executive Committee:
Lisa and Peter Alcorn
Hannah Davis
David Wynne
Whitney and John Wynne

Host Committee:
Lorene S. Agather
Susanna and Harper Bartolomei
Madisen and Marshall Boenker
Lauren and Cole Bredthauer
Elizabeth and Chad Brookshire
Leah and Hunter Brous
Sasha Camacho
Paige and Reagan Casey
Katie and Frank Darden
Cara Darden
Catherine and Todd Davenport
Asad Dean
Jenny and Rob Dupree
Garett Essl
Lissa and Chris Harrison
Gloria and Erich Holmsten
Amy and James Klein
Regan and W.A. Landreth
Mallory and Palmer Lummis
Meredith and Stephen Luskey
Kristin and Bailey McGuire
Denver Mead
Bradley and Coley Means
Lisa and Ryan Moore
Samantha and J. C. Pace III
Stephanie and Stephen Perry
Ellen and Ben Pevoto
Ally and Davis Ravnaas
Abby and Will Rodgers
Sonya and Amar Tanna
Neel Tanna
Lauren and C.B. Team IV
Allie and Walker Turney
Lizzie and Ben Voigt
Morgan and Thomas West
Lauren and Hood Whitson
Kimbell Art Museum hours: Tuesdays--Thursdays and Saturdays, 10 a.m.--5 p.m.; Fridays, noon--8 p.m.; Sundays, noon--5 p.m.; closed Mondays. For general information, call 817-332-8451.
Website: www.kimbellart.org
*Admission to the permanent collection is always FREE.
Kimbell Art Museum, 3333 Camp Bowie Blvd. , Fort Worth, TX 76107-2792