Local News
Reba's Ranch House 'Room For Hope' to receive$3,755 from third annual Ruiz Foods Denison 'Pink Out' Day
Nov 21, 2017
Check presentation 1:30 p.m. Tuesday, November 21 at Reba's Ranch House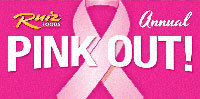 Denison, TX – On Tuesday, November 21, Ruiz Foods will present Reba's Ranch House (5036 Reba Drive, Denison, TX) a check for $3755. Denison Team Members raised the funds by participating in the Company's Third Annual 'Pink Out' Day. Since 2015 Ruiz Foods has donated $7,470 from its Pink Out events.

In support of the fight against breast cancer during October's Breast Cancer Awareness month, Team Members were encouraged to wear pink. For every Team Member that did, Ruiz Foods committed to donate $5 to the Reba's Ranch House "Room for Hope." The "Room" has wigs, scarves, hats, prayer blankets, prosthetics, bras and books available for free to cancer patients.

"I am extremely proud of our Ruiz Foods Florence Team Members," said Jeanne Ulack, Pink Out Ambassador, Ruiz Foods Denison. "They came together to raise funds which will make an impact for women battling cancer."

In addition to wearing pink, Denison Team Members enjoyed pink cookies and a fun photo booth.

About Ruiz Food Products, Inc.

Ruiz Foods Products, Inc. is a privately owned corporation with corporate offices in Dinuba, Calif. Kim Ruiz Beck, the elder daughter of Co-Founder and Chairman Emeritus, Fred Ruiz, is Chairman. Rachel Cullen is President and CEO.

Ruiz Foods is dedicated to premium quality, authentically prepared frozen foods selling to all channels of distribution: retail, convenience store, clubs, vending, industrial and foodservice. El Monterey® brand is the #1 selling frozen Mexican food in the United States and Tornados®, the company's snack brand is a leader on the convenience store roller grill. Ruiz Foods employs over 3,100 Team Members in four facilities located in the U.S. For more information; please visit www.ElMonterey.com or www.myTornados.com.