Local News
Downtown McKinney shuttle 'DASH' wins Spirit of Downtown award
Dec 7, 2017
DASH offers rides to downtown visitors from remote parking lots
McKinney – McKinney Main Street's electric shuttle McKinney DASH was recognized with a Spirit of Downtown Award by the Texas Downtown Association (TDA) on Nov. 8 during the President's Awards Gala. The gala was held in conjunction with the 2017 Texas Downtown Conference, hosted in McKinney this year. The McKinney DASH, Downtown Area Shuttle, helps alleviate downtown parking congestion by offering free rides to downtown visitors' walking to and from parking lots surrounding the square during peak dining and shopping hours.
The Spirit of Downtown Award recognizes local projects and programs that represent the overall efforts of the downtown or commercial district and their goals for the year.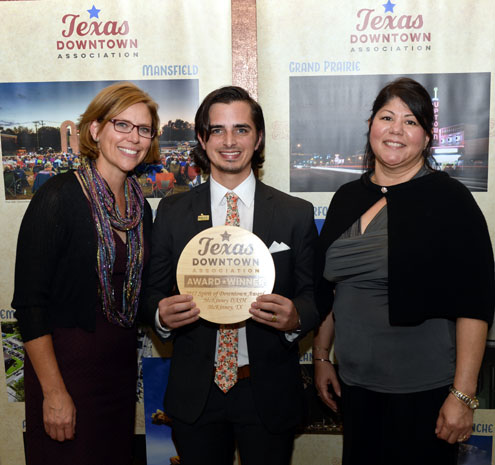 (L-R) Director of McKinney Main Street Amy Rosenthal, Aaron Werner and Dee-dee Guerra
"The Spirit of Downtown Award recognizes that DASH is an innovative and sustainable solution to downtown parking shortages. The TDA annually recognizes outstanding projects, places, and people from across the state and we're honored to be considered among them," said Amy Rosenthal, Director of McKinney Main Street.
TDA was established in 1985 to connect and serve communities that are committed to downtown vitality. The membership organization is an independent, statewide nonprofit that represents cities and towns of all sizes, economic development corporations, chambers of commerce, local organizations, small businesses, and individuals.