Religion
'Spirit of Giving' at First Presbyterian Church
Nov 28, 2017
Bonham -- The fourth annual Spirit of Giving Community Christmas Party can be summed up in one word – MORE! More guests in attendance, more community partners, more volunteers, more bicycles given away, more hot dogs consumed, and more blessings all around.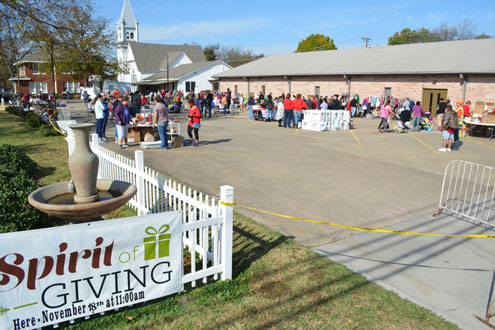 Thanks to the community partners that made this year's event such a success:
First United Methodist Church Diaper and Toy Station

Chi Lambda Pillow Station

Living Word Church of God Household Necessities Station

Bonham Psychiatry New Blanket Station

Kiwanis Gift Wrapping Station

K5 Fannin Radio Club Hot Dog Station

Cub Scout Pack 54 manning the Cookies/Hot Chocolate Station

First Presbyterian Church as Event Host
If your church, organization, or family would like to participate in the 2018 Spirit of Giving, please contact the First Presbyterian Church (903-583-2014 or info@fpc-bonham.org

)

for

more information.