Front Page
Home Front Saturdays at Eisenhower Birthplace State Historic Site
Dec 15, 2017
Denison -- On December 16, we want to encourage everyone to come visit the Eisenhower Birthplace State Historic Site and do a little holiday shopping. We have a well-stocked museum shop that features gifts for all ages. Toys for children, books for the reader in your family, stocking stuffers and a variety of games can all be found on our shelves. We will also feature World War II-era homemade Christmas decorations along with a Patriotic tree, an exhibit describing Christmas on the home front during the war years, and a free booklet that features recipes typical of the time period when resources were rationed.
Cost to enter our Museum Store and Visitors Center are free. So come on over and shop with us. We are located at 609 South Lamar Ave., Denison.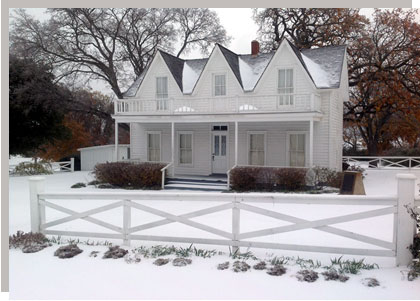 Our hours of operation are from 9:00 a.m. to 5:00 p.m. Tuesday through Saturday and 1:00 p.m. to 5:00 p.m. on Sundays. We are closed on Mondays. If you have any questions please call us at 903-465-8908 and be sure to follow us on Facebook and Instagram, where you will always know what is happening at the Eisenhower Birthplace. Merry Christmas!