Local News
Clayton Homes – Texas Strong!
Dec 4, 2017
Texas Strong!
In August 2017, Texas experienced one of the worst storms in its recent history when Hurricane Harvey struck.
When Hurricane Harvey devastated the Gulf Coast Region, Clayton Home Building Facility Team Members were eager to help.
Team Members at Clayton Homes in Bonham along with seven other Clayton Home Building Facilities across Texas came together to donate over $50,000 to the Texas Hurricane Relief effort.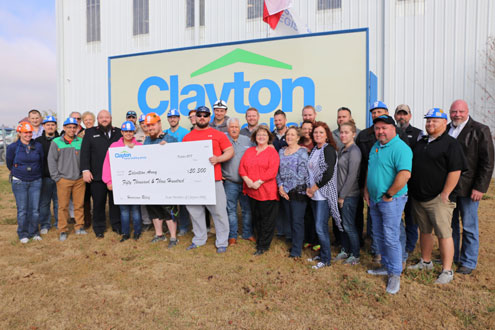 On Thursday, November 30, 2017, Major Tex Ellis, representative of the Salvation Army was presented with a token check by Kip Thrush, General Manager, in the amount of $50,300 during the weekly plant meeting at the Clayton - Bonham Home Building Facility.
(L-R) Major Tex Ellis and Kip Thrush