Front Page
'A World War I Christmas' at the Sam Rayburn House
Dec 9, 2017
A chill is in the air, little lights are twinkling, and carols play on the radio. Yes, you've guessed it; the holiday season is upon us. Join us at the Sam Rayburn House State Historic Site as we once again celebrate the season with our festive and fun Holiday Open House. Join us on one (or both!) dates this year: Friday, December 8 and Saturday, December 9.
As the year 2017 marks the centennial of U.S. entry into World War I, the Sam Rayburn House will take a closer look at the conflict abroad, on the home front and its impact on the Rayburn family. This year we remember the Great War and honor the memory of those involved as we celebrate, "A World War I Christmas."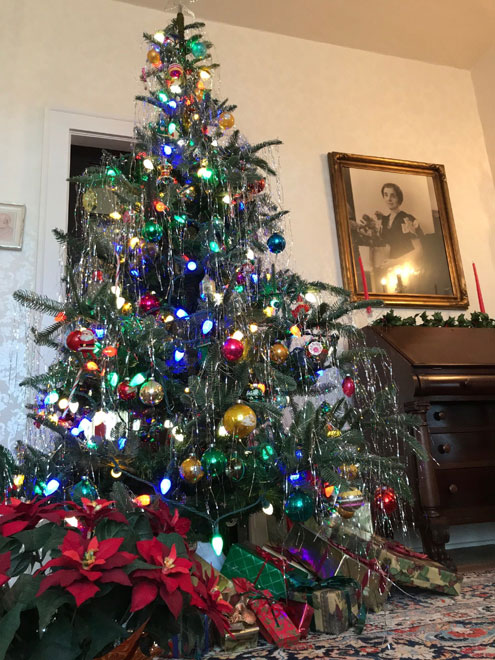 Christmas tree in the parlor at Sam Rayburn House
The Rayburns had only been living in their newly built home outside of Bonham for a year when the U.S. entered World War I on April 6, 1917. As a Congressman in his third term in Washington, Sam Rayburn was part of that historic vote that brought U.S. military forces into the fray. It was not an easy vote for the future Speaker of the House. Rayburn became physically ill during the debate. At one point he worried that he would have to leave the House chambers to vomit. He later remembered his doubt faded and his stomach settled as the vote approached him. "Of course, any man hates like the devil to vote for war. But it was something we had to do. We had no choice," Rayburn recalled.
U.S. troops began arriving in France in June of 1917. Many of them would remain there for another three years, even after the Armistice ended fighting in 1918 and the signing of the Treaty of Versailles in 1919.
On the home front, families of soldiers and everyday citizens banded together to offer what they could so that the boys overseas would not have to go without. Industrial production stepped up to placate wartime needs. Voluntary food rationing kept soldiers from going hungry. The Red Cross and other organizations encouraged women, men and children to knit helmets (which look more like our current day ski masks), socks, scarves, and gloves for the soldiers on the front lines. Comfort kits which held combs, shaving soap, toothpaste, and cigarette lighters in a drawstring khaki twill bag were another contribution that folks could make for the "boys overseas." War bonds and loan drives were another way for Americans to aid the country's war effort.
Christmas could be a solemn time for families with a loved one serving far away during the Great War. Holiday themed greeting cards, decorating with paper garlands, and trimming a tree with glittering tinsel and strands of popcorn made the season a bit more bright and festive. During wartime, the holiday meal may have been short on some of America's favorite ingredients; meat, wheat and sugar. While the government never imposed mandatory food rationing, propaganda posters, newspaper advertisements and high prices persuaded the American public to grow their own fruits and vegetables, limit their food intake, save food scraps and limit waste. "Meatless Mondays" and "Wheatless Wednesdays" became the norm at home. This thinking even made its way to Christmas dinner. The holiday meal might not have included roast or ham but instead fish or poultry. Christmas cakes and cookies were made with cornmeal instead of wheat flour and sweetened with honey or corn syrup instead of sugar.
Learn more about Christmas during World War I at the Sam Rayburn House State Historic Site's Holiday Open House on December 8 (1 - 4 p.m.) and 9 (10 a.m. – 3 p.m.). Enjoy our festive décor, themed house tours, crafts for children and refreshments. All activities are free and everyone is welcome.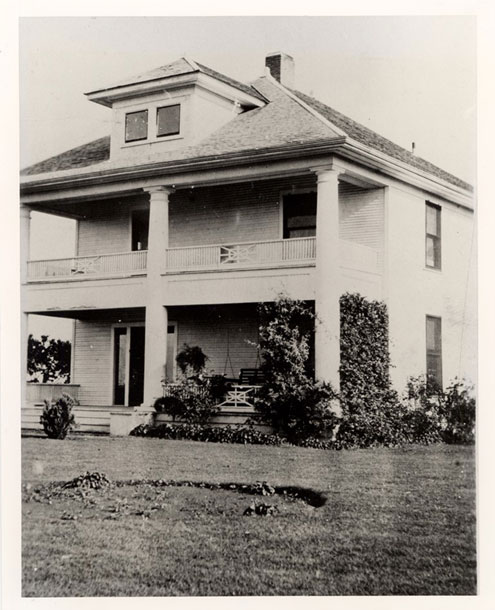 Sam Rayburn House, circa 1961
The Sam Rayburn House State Historic Site tells the real story of Sam Rayburn, one of the most powerful and influential politicians of the 20th century, in his authentic 1916 home. Preserved as a period time capsule, the two-story home contains all original Rayburn furnishings. The Sam Rayburn House State Historic Site is one of 22 historic attractions operated by the Texas Historical Commission.
For more information visit www.visitsamrayburnhouse.com.