Religion
North Texas Concert Chorale presents 2017 Winter Concerts
Dec 10, 2017
Sherman, Texas -- The North Texas Concert Chorale is pleased to announce our 2017 Winter Concerts. The first performance was given December 8 at Saint Luke's Episcopal Church in Denison, Texas.
A second performance will be given on Sunday, December 10, 3:00 p.m. at Covenant Presbyterian Church, 322 W. Pecan St, Sherman, Texas. The program will consist of classical and traditional music and many Christmas favorites. The concerts are free to the public.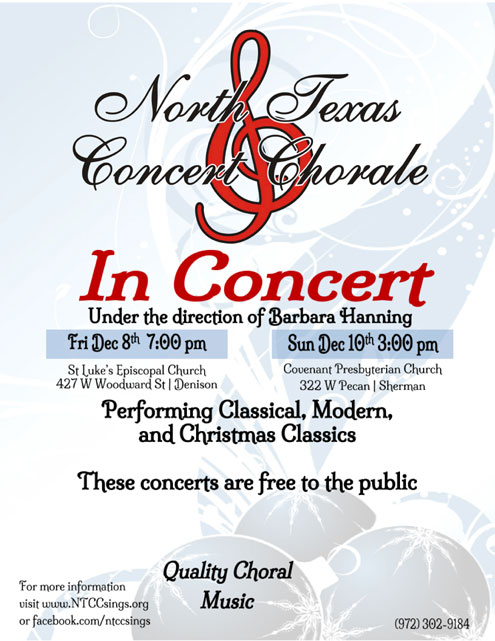 According to choral advocacy group Chorus America, there are over 42 million people in the US singing in more than 270,000 choruses. There is a strong choral tradition in North Texas and that is due to the music lovers who come to our concerts and support the musical tradition throughout the State. You can be a part of that by coming to our concerts, and by joining an area civic or church choir.
For more information, please visit our website: www.ntccsings.org.