Local News
Texoma Health Foundation hosts its annual Holiday Event
Dec 5, 2017
Denison, Texas -- The Texoma Health Foundation is hosting its annual Holiday Event Tuesday, December 5 from 11:00 a.m. until 2:00 p.m., kicking off the holiday season. This holiday gathering will be held at 5036 Reba Drive in Denison.
Twenty-one unique nonprofit organizations from North Texas and Southern Oklahoma will fill the Foundation and Reba's Ranch House highlighting their work and programs the Foundation supports throughout the year. In addition, guests can learn about THF's priority and focus areas including Reba's Ranch House, Community Facilitation, Room for Hope, Place-Based Philanthropy and Family Endowments and Funds.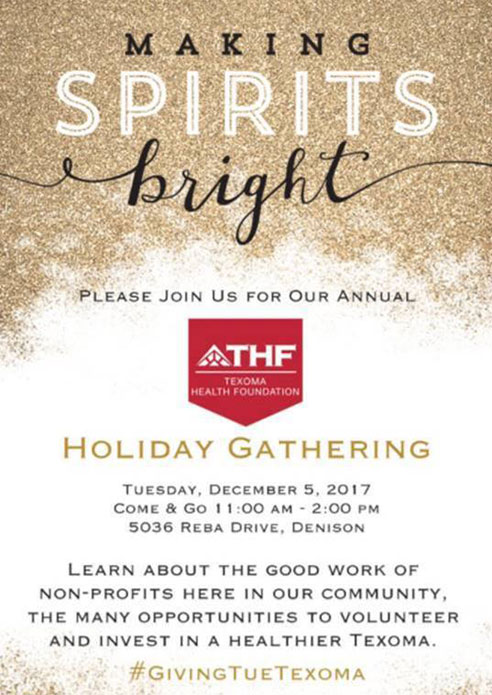 THF's focus for the Holiday event is to not only bring together area nonprofits that are working toward creating a healthier community, but also to connect them with donors in the community that may share the same passion.
"This is a wonderful opportunity for organizations and residents to find ways to give of their time, their gifts and talents, or to donate to the cause," said Chairman, Brett Graham.
Historically, over 200 guests joined together to learn about the impact nonprofits have within the community throughout the year as a result of the funds received from the Foundation. THF awarded over $1M to projects this past year, such as the Denison ISD's JET Program for after-school care for children with disabilities, as well as D-Dent which provides full mouth restoration services to the elderly and disabled in Bryan and Marshall Counties. When a donor gives to our unrestricted fund, it supports our Grants and Giving Committee's work with 100% of all gifts received directly benefitting these local nonprofits.
THF is Texoma's only public community-based foundation that not only awards grants to area nonprofits, but also administers funds and programs that help families live out their legacies through endowments.
Texoma Health Foundation is a nonprofit community public health foundation. THF was formed in 2007 with a mission to improve the health of residents in its four county service area in North Texas and Southern Oklahoma. The Foundation operates direct programs, family endowments and awards grants to area nonprofits with a priority on access to healthcare services and nursing.