Local News
Joe C. Dale appointed to Silver Haired Legislature
Dec 7, 2017
Fannin County, Texas – At the regular meeting of Fannin County Commissioner's Court, the meeting opened with the invocation which was delivered by David Woodson. A quorum was established, with Fannin County Judge Spanky Carter and all commissioners except Commissioner Magness in attendance.
In public forum this week, Carolyn Rogers wanted to thank Commissioner Whitlock and TxDOT for the lowering of the speed limit on Highway 78 near the Boyd Baptist Church from 65mph to 60mph. With the amount of traffic in that area she feels it is safer with the lowered speed limit, and just said, "Thank you."
Next in public forum, Claude Lewis spoke on his displeasure in trying to contact the sheriff. He tried to contact the sheriff and could not get in touch with him.
Agenda item number four was to approve minutes from November 14th and 28th, 2017.
Item number five was regarding the recognition of Joe C. Dale's appointment to The Silver Haired Legislature. The oath of office was then delivered to Mr. Dale by Judge Carter.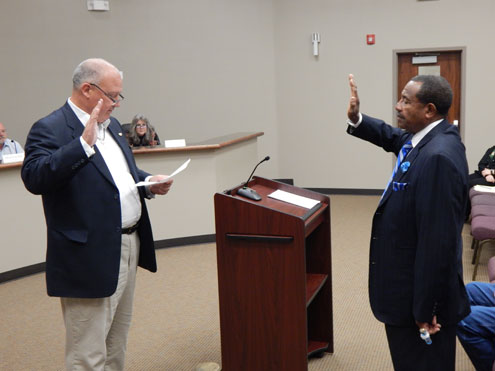 Fannin County Judge Spanky Carter (left) issues the oath of office to Joe C. Dale. photo by Jarrett Tucker
Agenda item number six was regarding the EMS monthly Profit/Loss Report. This report was given by Interim Chief Scott Ridling, and the report was approved.
The agenda item number seven was to approve a waiver listed in Short Plat Procedures 3.5 Construction Plans and 3.6 Construction Bonds. This was presented to the court by Clark Sanderson.
Agenda item eight was to approve the Oden Estates Addition to Fannin County, Texas.
Agenda item nine was to revise subdivision rules changing 5 acres to 10 acres. There was some discussion between Commissioner Lackey and Mr. Sanderson about this item. It was then decided to pass on this item and send it to the Subdivision Committee for a recommendation.
Item number ten dealt with the awarding of the bid RFB18001/Courthouse Restoration Asbestos Abatement. Before awarding the bid, Horsley Specialties Inc. out of Garland TX asked to amend the dates of the abatement to start on January 2nd and finish on January 25th as they had a conflict with the start time. After some discussion the bid was approved. Horsley came in with the low bid of $107,743.00 for the asbestos abatement.
Agenda item eleven concerned the starting salary for a new assistant district attorney. Mr. Butch Henderson addressed the court and gave them a job description. He asked for this item to be passed on so Mr. Glaser could address the court on this issue. They would like the commissioners to consider the pay scale for an assistant district attorney.
Item number twelve was to address employee parking at 200 East 1st street. This item was passed on again due to no clear answer to the problem of the shared area in this building.
Agenda item thirteen was regarding the burn ban for Fannin County. The burn ban will be left in place due to dry conditions.
Payment of the bills was agenda item fourteen and this was approved.
Item fifteen was comments by county commissioners and county judge. Commissioner Whitlock had no comments. Commissioner Barker had a shout out to Jill Holmes and her retirement. He wanted to thank her for service and she will be missed. Commissioner Lackey acknowledged the Ladies Hospital Auxiliary, The Pink Ladies, and the contribution they and other volunteer organizations make in Fannin County. He stated the Hospital Auxiliary has donated $200,000 to the hospital since their inception. Judge Carter wished Commissioner Barker a Happy Birthday.
Agenda item sixteen adjourned the meeting.
If you have any questions or comments for your County Commissioners or County Judge their contact information can be found at the web addresses below.
http://www.co.fannin.tx.us/default.aspx?Fannin_County/County.Judge
http://www.co.fannin.tx.us/default.aspx?Fannin_County/Commissioners.Court