Entertainment
The Last Ride of James Butler Bonham unveiled at Sam Rayburn Library
Dec 20, 2017
Bonham -- Denver, Colorado resident Michael Ome Untiedt likes to say that every painting he does has a story behind it. That certainly is true of Mr. Untiedt's The Last Ride of James Butler Bonham.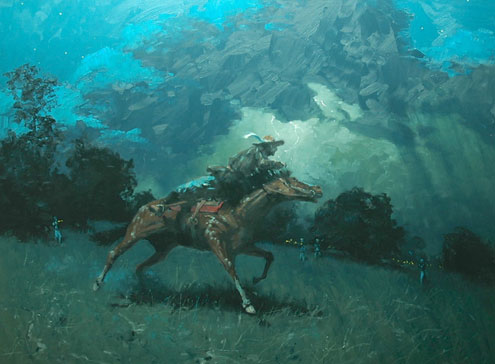 The Last Ride of James Butler Bonham by Michael Ome Untiedt
Untiedt is a renowned artist with a penchant for historical detail, but it is his gift for capturing moments of valor and sacrifice that make Untiedt's subjects truly come alive on the canvas.
It is one of those moments of unflinching duty and total sacrifice for brothers-in-arms that brought Untiedt to Bonham, Texas, a town named after one of the heroes of the Battle of the Alamo, James Butler Bonham. The artist was at the Sam Rayburn Library in Bonham to help unveil his painting, The Last Ride of James Butler Bonham, which depicts Bonham's daring ride through thousands of Mexican Army regulars in a desperate attempt to recruit reinforcements to save 200 Texians trapped in the Spanish mission.
James Butler Bonham, much like his boyhood friend and second cousin William Barrett Travis, left his home in South Carolina, destined to join the fight for Texas' independence from Mexico. While Travis had journeyed to the nascent republic in 1831, Bonham arrived in the winter in 1835. He wouldn't live to see wildflowers bloom in spring.
Bonham wrote to Sam Houston and volunteered his services without compensation. Houston was impressed enough that he recommended that Bonham be promoted to major.
"His influence in the army is great, more so than some who 'would be generals'," Houston wrote to James W. Robinson, Lieutenant Governor of the provisional Texas government.
Bonham made two mad dashes on horseback out of the Alamo and then, with no help in sight other than 32 volunteers from Gonzales, he rode back through a hail of bullets from the Mexican Army to break the news to Travis, wearing a white scarf tied to his hat so the Texians wouldn't pick him off as he approached the mission walls.
"Bonham had to ride through that army four times," Untiedt remarked to an audience gathered for the unveiling of his painting. "He must have known it was a lost cause. There isn't a soul alive who isn't moved by the bravery of the defenders of the Alamo. It is one of those pivotal moments in history."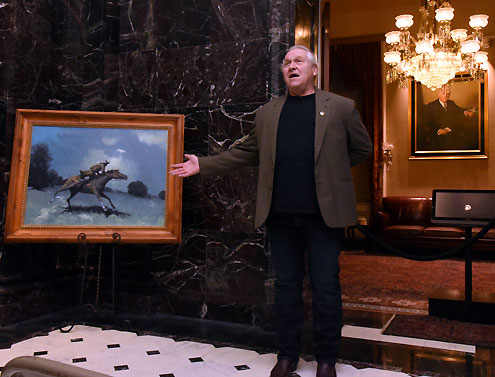 Award-winning artist Michael Ome Untiedt talks about the inspiration behind The Last Ride of James Butler Bonham
Noted author T.R. Fehrenbach tells the story of the messenger of the Alamo this way: "At the end, the weary Bonham, a lawyer, a Carolinian of exulted family and a friend of Travis, turned his mount around and rode back toward San Antonio. He was told it was useless to throw away his life. He answered back that Buck Travis deserved to know the answer to his appeals, spat upon the ground, and galloped west into his own immortality."
Bonham, 29, died on March 6, 1836, during the siege of the Alamo, manning a cannon in the main plaza.
Untiedt's The Last Ride of James Butler Bonham was awarded the Committee's Choice Award at the 2016 Briscoe Western Art Museum Night of the Artist. Thanks to a countywide fundraising effort spearheaded by Gary and Jo Anne Duncan, one day it will adorn the walls of the restored Fannin County Courthouse.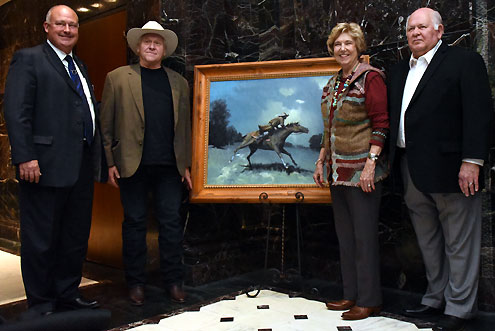 (L-R) Fannin County Judge Spanky Carter, Michael Ome Untiedt, Jo Anne Duncan and Tom Thornton
"I certainly appreciate the patronage," said Untiedt, "and I deeply appreciate the honor of having the painting in a place with such a historical connection to James Butler Bonham."
A perfect evening was made complete by the stories and music of Tom Mac Holmes, a member of the Texas Swing Music Hall of Fame, as well as the beloved publisher of the Trenton Tribune. In his childhood, Tom Mac had the dubious distinction of being chased out of a henhouse behind the Rayburn house by a bellowing Sam Rayburn who evidently didn't take kindly to mischevious youngsters upsetting his chickens.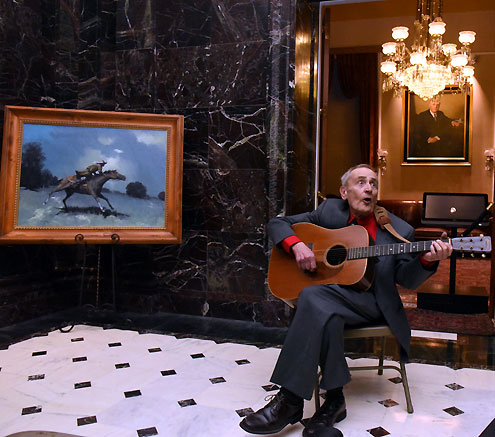 Tom Mac Holmes entertains the crowd on a special evening at Sam Rayburn Library.
Tom Mac grabbed his trusty guitar and entertained the crowd with two songs, "Sentimental Journey" as well as an homage to Fannin County penned by the publisher-musician.
To enjoy more of Untiedt's artwork, visit his website.