Local News
Terri Hendrix with Lloyd Maines 'ring in' the New Year at Harmony House Concerts
Jan 7, 2018
Fannin County, Texas -- On Sunday, January 21, 2018, 4:00 p.m.-6:00 p.m., Harmony House Concerts will be filled with the exuberance and talent of singer-songwriter Terri Hendrix and of the skilled musicianship of Lloyd Maines, who will play back-up with her.
For the first-time in the history of Harmony House Concert performances, this gig was sold out before any publicity was sent. Terri obviously has a loyal fan base. And Lloyd, being inducted in Austin City Limits' "Hall of Fame" (for appearing at this famous venue more than any other artist) makes their appearances sought after — for good reason!! It'll be one fabulous show. Terri is a prolific self-made independent singer-songwriter, and Lloyd produces her CDs.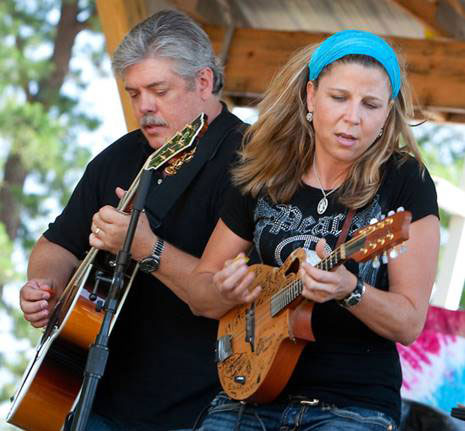 Once the Reservation List is sent out, there is the possibility of cancellations due to changes in circumstances. Hence, we have a Waiting List. Don't hesitate to call for a reservation at 903-583-2661 and leave your contact information and the number of reservations desired. If reservations become available, we'll contact those on our Waiting List to be certain that our vintage home is filled with eager guests for this show. Reservations are $18 per person, payable at the door in cash or checks made out to Terri Hendrix.
There will be no Potluck Dinner after the show. Guests are requested to bring finger food snacks to share. We (Faye & Scott), your hosts, will have bottomless cups of coffee, tea, various yummy fruit punches, a variety of cheeses and gluten-free crackers available for guests.
Harmony House Concerts are held inside our reclaimed vintage homestead set among the natural surroundings of Wildscape Acres. It's a place of warmth and welcome to both independent singer-songwriters and to the community of down-to-earth folks who just love music.
Visit our website, www.WildscapeAcres.com for more information about our history, our mission, and Harmony House Concerts. (This link provides you the 2018 line-up/schedule and access to performers' websites.)
We have a fabulous line-up/schedule for 2018, so do make reservations and join us. The schedule is listed below for your convenience:
February 11, 2018, 4-6 pm — Joe Crookston, www.joecrookston.com
March 11, 2018, 4-6 pm — Laurie McClain, www.lauriemcclain.com
April 15, 2018, 4-6 pm — Buddy Mondlock, www.buddymondlock.com
May — No concert
June 9, 2018, 7:30-9:30 pm — Jeff Black, www.jeffblack.com
July 7, 2018, 7:30-9:30 pm — Butch Hancock, www.butchhancock.com
August 11, 2018, 7:30-9:30 pm — Still on the Hill, www.stillonthehill.com
September 29, 2018, 7:30-9:30 pm — Sarah McQuaid from the UK, www.sarahmcquaid.com
October 20 or 21, 2018 (TBA) — Mike Aiken, www.mikeaiken.com
November 18, 2018, 4-6 pm — Claudia Nygaard, www.claudianygaard.com
The reservation fees vary by artist( $15-$20), so be certain to watch for press release for each of these shows on www.ntxe-news.com or visit our website or Harmony House Facebook page. We thank each of you who has supported our venue and the artists who have appeared at Harmony House over our last 16-years of bringing great music to all of North Texas.