Front Page
Denison Public Library to host unique concert Feb. 10
Feb 10, 2018
Internationally acclaimed musician Lauren Pelon will appear in a unique concert in the Eisenhower Room of Denison Public Library, 300 West Gandy Street, Denison, on Saturday, February 10, 2018, 1:00 p.m.
Under the title, The Living Roots of Music, Lauren Pelon traces the story of music and performs music from around the world on archlute, guitar, lute-guitar, lyre, recorders, gemshorns, cornamuse, krummhorn, schreierpfeife, shawm, rackett, pennywhistles, concertina, ocarina, hurdy-gurdy, bowed psaltery, Kiowa courting flute, eagle bone flute, electric wind instrument and MIDI-pedalboard.
Pelon is a vocalist as well, and her original songs and ancient ballads have been especially appealing to audiences. A Michigan reviewer wrote, "Lauren Pelon is a showpiece by virtue of her beautiful, fervent voice and her extraordinary talents on an assortment of unusual, but authentic instruments."
Lauren Pelon has performed throughout the U.S. and in China, Canada, England, Ireland, Scotland, Russia, Kazakhstan, Australia, and New Zealand. She is noted for her versatile use of a diverse array of instruments, but Pelon has also won recognition for her lovely soprano voice, and for her compelling compositions and arrangements of music from many countries and cultures.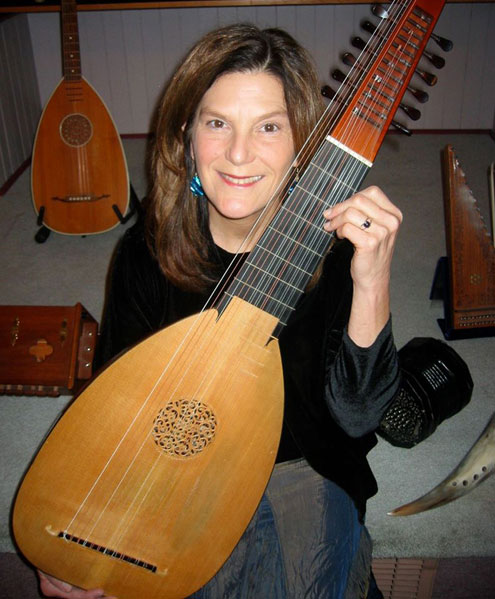 Lauren has performed with symphony orchestras, The Philadelphia String Quartet, on Garrison Keillor's "A Prairie Home Companion," and at the Russian Institute for the History of the Arts in St. Petersburg, Russia. Pelon was the recipient of the 2001 "Artist of the Year" award from The Southeastern Minnesota Arts Council. More recently, she received a 2010 Artist Initiative Award and 2014 Arts Tour Minnesota Grant Award from the Minnesota State Arts Board.
"I am fascinated by the interesting ways people of other cultures and different times have found to make music," says Pelon. "I especially enjoy doing these programs because they differ from ordinary concert performances. They offer not only an opportunity to listen to music, but also a way to think about how music has affected the lives of people all over the world -- from ancient times to our own modern day."
Pelon's current program melds her own original compositions with her arrangements of music from ancient Greece, medieval Europe, and contemporary Africa and Middle East. William Kearns, American Music Research Center, Boulder, Colorado, called the program "captivating and awesome." A reviewer for The Canberra Times, Australia wrote, "Lauren Pelon has devised a unique evening of entertainment by combining a wide variety of music from many centuries...Her versatility with more than 25 instruments including voice is admirable...an experience made all the more pleasant by Pelon's relaxed and warm presentation of the rare and unusual."
This concert is presented by Denison Public Library. "We are so pleased to bring this program to our community," says Kimberly Bowen, Director. "Our community has a rich cultural awareness within the arts and this program is a fantastic opportunity for our community to experience the arts with a deep emersion into the roots of the music that molds us and defines our diverse heritage!"
For more information, please call (903) 465-1797 or visit our website www.denisonpubliclibrary.com.