Entertainment
1929: New Year's Eve fire at the courthouse
Jan 3, 2018
Fannin County, Texas -- On 12:08 p.m., December 31, 1929, New Year's Eve, an alarm of fire was turned in saying that the Fannin County Courthouse was on fire. The fire started in the cupola and quickly spread throughout the tower and the roof. In short order the entire top of the building was engulfed in flames and once the support timbers of the cupola had burned the clock mechanism and the bell crashed through to the lower floors.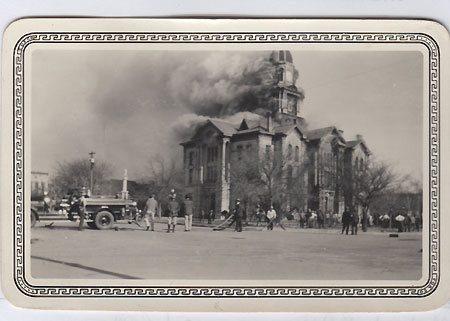 Those who saw the fire were convinced that it started in the attic. First little small curls of smoke could be seen shooting out at the very top of the tower, where the old clock had tolled off the hours for forty-one years. In just a few more minutes the flames were all over the top of the building. The holiday lights that had been strung from the building, and which had been so admired by everyone, had been cut off, and thus the fire could not have started from them.
The Honey Grove Fire Department was on the scene just as quick as it could have possibly arrived. Fire departments from Leonard and Paris also arrived. Of course the 1916 devastating Paris fire was very much in mind, as the Bonham firemen sought to contain the fire from spreading to other buildings.
When the fire was out everyone agreed it could have been much worse. The entire building did not burn. The records of the county clerk, the tax collector and the tax assessor were not burned. New temporary locations were quickly found for county offices.
A bond election was held in March of 1930 for the erection of a new courthouse. The result of the election was 869 for and 2191 against. Therefore the courthouse was repaired in part with funds from the insurance settlement for the fire. The remodeling was complete by November 1930.
The remodeling greatly altered the external appearance of the building. Gone were the cupola and clock tower. The steep gables and the supporting stone columns over the porticos were removed and the roof was flattened. A slightly arched section of the roof lines was positioned over each entrance and a clock installed in each arch. The exterior of the building was painted white.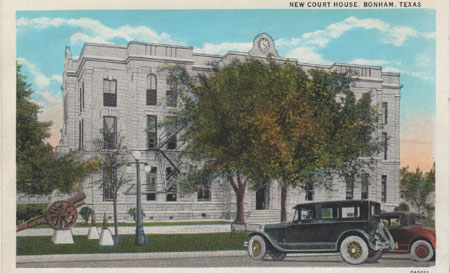 It has been 89 years since the fire. We are looking forward to the restoration, which begins very soon.