Lifestyles
Second Saturday at Hagerman Jan. 13
Jan 13, 2018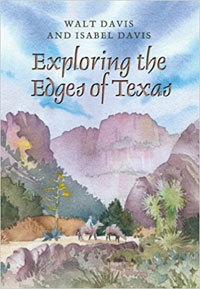 Second Saturday - Exploring the Edges of Texas
Saturday, January 13, 2018, 10:00 a.m. – 11:30 a.m.
Artist-naturalist Walt Davis and his wife Isabel will speak on their book, Exploring the Edges of Texas.
In the book, the couple have paired an historical account with a contemporary voice, comparing past and present for 16 locations along the Texas border, including a national park, a mountain range, a wild stretch of river and more.
Anyone interested in the rich natural heritage of Texas will enjoy the book and this free program.
The Refuge Rocks – Animal Adaptations (Free Program for Ages 4 – 12)
Saturday, January 20, 2018, 10:00am – 11:30am
Learn about Mother Nature's wonderful match-ups between different birds and animals and their food, habitat and more! Free nature activities program for youngsters. Please register each child by trying our new simple registration online at http://www.friendsofhagerman.com/CONTACT or by calling the Refuge at (903) 786-2826. Watch for a new topic each month. Parent/responsible adult must accompany youngsters in the 4 - 7 age group.
FOH Nature Photography Club Meeting
Saturday, January 20, 2018, 1:00pm – 3:00pm
Ron & Sharlott Hasty will present "Adding Motion + Emotion to Photos" for the January program. The sharing theme is "Geese". Also: learn how you can participate in the Basic Photography Class to be offered starting February 17.
Volunteer Opportunities at HNWR - Open House
Sunday, January 21, 2018, 3:00pm – 4:00pm
Resolve to get involved at Hagerman NWR in 2018. Here is your chance to learn about the various volunteer opportunities offered by the Friends of Hagerman and the Refuge. No obligation but we think you will find a good fit for your time and talents.
Begin to Bird - Part I
Saturday, January 27, 2018, 10:00am – 12:00pm
Great time to begin a new hobby! Birding can give life-long enjoyment. Start with the basics, with Dick Malnory. There will be two sessions - January 27 and February 3; the second session is a continuation of Part I, not a repeat. Advance registration is not required but helps us know how much material to have on hand, thanks! You may also call the Refuge, 903 786 2826 to sign up. Free of charge.
Outdoor Crew Work Day
Saturday, January 27 9:00 – 11:00am
Show your love for nature! Join the Outdoor Crew at Hagerman National Wildlife Refuge, sprucing up trails, trimming and removing brush, trash and general cleanup! Meet at the Visitor Center the first Tuesday and the fourth Saturday of each month. For more information, contact friendsofhagerman@gmail.com.
Free Tram Tours, Saturdays & Sundays
Saturdays and Sundays at 2pm, Recommended for adults and children 6 years old and over.
Take a guided tour of the refuge with an expert birder aboard the open air, all-electric Carlos and Eulalia Cardinal Express! Enjoy a trip along Wildlife Drive and some of the Pad roads at the Refuge, with frequent stops to view and photograph wildlife, especially birds. Learn about the history of the town of Hagerman and the operation of the refuge.
This 60-90-minute guided tour is offered on Saturdays and Sundays at 2 pm, weather permitting. Seating space is limited; please call to reserve your seat: 903-786-2826 between 9am-4 pm Monday thru Saturday or from 1pm to 5 pm on Sundays. Please speak to a volunteer when making or cancelling a reservation as volunteers are unable to access messages on the Refuge phone system. Tours are free of charge; however, donations to the tram maintenance fund are appreciated.