School News
Leon Capital Group plans to save part of former Dallas ISD headquarters in redevelopment
Jan 10, 2018
Exterior facade, signage and building core will be preserved and incorporated into residential construction
DALLAS (Jan. 2, 2018) – Leon Capital Group, a Dallas-based investment company with a focus on real estate, announces the plan and design of the former Dallas Independent School District (DISD) Headquarters at 3700 Ross Avenue. In an effort to preserve the character of the site and its presence on Ross Avenue, Leon Capital has been working with the Landmark Commission over the last several months to identify the most historically relevant aspects of the existing building and to incorporate them into the design. As a result, Leon Capital will preserve the main entrance facade and structure of the original building and make it a fully functional aspect of the development.

"We're planning to incorporate the interior core of the original building into our leasing office and amenity area. The balance of the architecture of the new construction will be setback from the existing structure to increase the prominence of the preserved component," said Leon Capital Group's Managing Director of Multifamily Division David Cocanougher. "It also incorporates design that blends the style of the existing structure with the ongoing transformation occurring along Ross Avenue."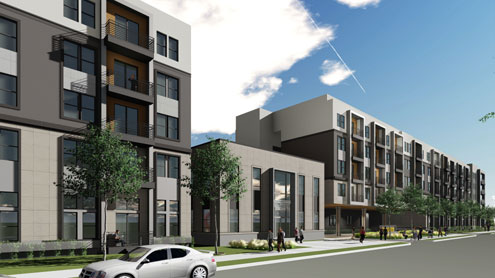 Set to begin construction this summer, the four-acre luxury development known as "The Academic" will include approximately 365 rental units ranging from 500 to 1,150 square feet, a six-level parking garage and a courtyard at the center of the complex.
"We're excited to be a part of the collaborative effort to protect and renew the fabric of Ross Avenue," said Cocanougher. "This busy street near downtown's east side is getting a major makeover with new housing and retail."
DISD has already moved its operations out of the Ross Avenue building. Leon Capital's purchase of the site will help DISD maximize its financial return, so it can continue investing more resources toward its mission of educating Dallas' schoolchildren. This development likely will increase property values in the area and that should benefit the school district, as there are other adjacent parcels of land for sale by DISD that have not yet been awarded.
ABOUT LEON CAPITAL GROUP
Leon Capital Group is an investment company with a focus on real estate. The company acquires and develops assets across a diversified portfolio that yields attractive returns to our investors. With a focus on multi-family, retail and self-storage properties, we have successfully overseen more than 300 investments, representing a total capitalization of more than $3 billion. Based in Dallas, Leon Capital Group has a vision of redefining real estate investing and transforming communities throughout the United States and around the globe. To learn more, visit www.LeonCapitalGroup.com.