Lifestyles
Bonham Public Library receives grant from M.W. & Fair Miller Foundation
Jan 10, 2018
Bonham -- One of the best small-town libraries in Texas continues to get even better, thanks to a recent $10,000 grant from the M.W. & Fair Miller Foundation.
For the past 27 years, this generous foundation has been finding ways to offer Fannin Children a path to a better life.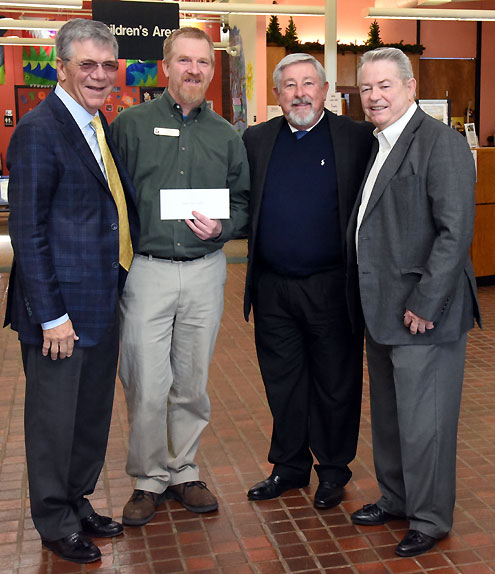 (L-R) Dr. Dana Sisk, Bonham Public Library Director John Hayden, Dr. Jerry Hopson, Bonham Mayor Roy Floyd
Bonham Public Library will use the grant to fund a coding program for kids and teens in the spring. Coding is what makes it possible for us to create computer software, apps and websites. Your browser, your OS, the apps on your phone, Facebook, and this website – they're all made with code. In today's digital world, coding is a fundamental skill alongside math and reading, but too few kids can learn to program because it is rarely taught in school.
Coding drives innovation. From self-driving cars to robot-assisted surgery to social media, computer science is revolutionizing every aspect of our lives. Coding is a fundamental skill that children need to learn so they can lead this movement.

Coding allows kids to be creative. They can create projects that do amazing things.

Coding translates to success in other areas. Learning to program supports learning in other areas, like math, reading, and science.

(From Tynker-coding for kids)
The Library will also purchase discovery kits to be checked out for two weeks. These kits will have a mix of tools or gadgets and books full of information and experiments that kids and teens will love to explore.
"This generous donation will help us with our mission of enriching both minds and lives of children in Bonham, Fannin County and the surrounding areas," stated Bonham Public Library Director John Hayden.
M.W. & Fair Miller Foundation, Inc. was incorporated December 30,1988 by Mr. Ray Peeler, Jr., attorney at law, and the initial Board of Trustees consisted of Dr. Walter L. Sisk, Mr. Warren Jamieson, and Mr. John Latham. Others who have served on this board include Mr. C.B. Bryant and Dr. Helen Leatherwood. Mr. Steve Mohundro has served as the accountant and tax advisor for the foundation.
Currently serving on the Board of Trustees are Mr. Tyler Todd, Dr. Dana L. Sisk, and Dr. Jerry J. Hopson.