Obituaries
Joe C. Murley
Jan 6, 2018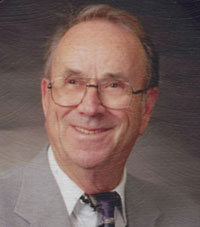 Leonard, Texas -- Funeral services for Joe C. Murley, 89, of Lonard resident, are scheduled for 10:00 a.m. Monday, January 8, 2018 at the Leonard Church of Christ. Bob Lewis will officiate and Military Honors will be presented at Grove Hill Cemetery. Family visitation and viewing will be Sunday, January 7, 2018 from 6:00 p.m. until 8:00 p.m. at Turrentine-Jackson-Morrow Funeral Chapel in Leonard.

Joe was born November 15, 1928 in Leonard. His parents were William Thomas and Mary Alma Blackshear Murley. He attended Leonard ISD and the Peacock Military Academy. He also had an Associate Degree from Grayson County College. He was a member of the Leonard Church of Christ, a Master Mason and member of the Masonic Lodge. He was retired from the United States Air Force, as well as from the United States Postal Service, with more than 50 years of government service. He passed away Friday, January 5, 2018 at the Texoma Medical Center in Denison.

He is survived by a son-in-law: Roger Tindall of Mountain View, Arkansas; a sister: Audrey Profitt of Whitesboro; two grandchildren: David Scott and Celeste, and Adam Tindall and Sarah, all of Sherwood, Arkansas; a great-grandson: Lucas Tindall of Sherwood, Arkansas and a very special friend, Jody McMillan of Bonham. He is also survived by numerous nieces, nephews and an adored cat, Stormie.

In addition to his parents, he was preceded in death by two brothers, Thad Murley and Tommy Cole Murley, one sister, Hazel Leggett and a daughter, Luann Tindall.

Turrentine-Jackson-Morrow Funeral Home of Leonard is in charge of arrangements. An online registry may be signed at www.tjmfuneral.com.