Obituaries
Jimmie Wayne McAdams
Jan 8, 2018
Bonham, Texas -- Funeral services for Jimmie Wayne McAdams, 81, of Bonham, Texas will be at 11:00 a.m. Wednesday, January, 10, 2018 at the Cooper-Sorrells Funeral Home Chapel. Eulogy will be given by family friend Paul Wildrick. Interment will follow at Edhube-Hampton Cemetery. Mr. McAdams passed away at Seven Oaks Nursing Home on Saturday, January 6, 2018.
Jimmie was born to Lawrence Walker McAdams and Mamie Lucille Riddle McAdams in Bonham, TX on November 12, 1936. He married Marion Elizabeth Pruiett on February 1, 1955. His greatest passion was drag racing. He drove all types of racers, rails, street dragsters, and funny cars. He competed in Texas, Oklahoma and Kansas. He was very successful and won many trophies over the years.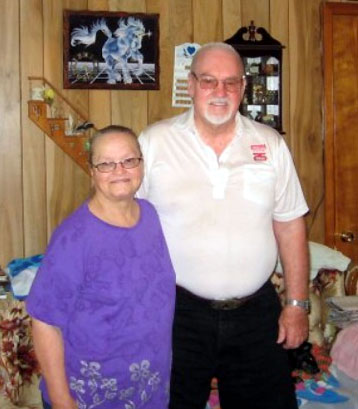 Jimmie Wayne McAdams is survived by wife of the home Marion, nearly reaching 63 years of marriage; siblings, Janice Lester of Houston, TX; J.C. Isom and wife Pat of Borger, TX; Donna Pyle and husband Richard of Borger, TX; sister-in-law, Jo Fletcher and husband Gary of Rowlett, TX; children, Beth Gilmister and husband Jeep of Bonham, TX; Pat Pickering of Bonham, TX; Anthony McAdams of Stinnett, TX; grandchildren, Lynsey Henderson of Grand Prairie; Shannon Jackson and husband Chris of Dodd City, TX; Katie Owen and husband Rick of Dodd City, TX; Deanne Pickering of Dodd City, TX; Amy Horne and husband Shannon of Borger, TX; Janeen Gilmister of Bonham, TX; great grandchildren, Cory McAdams of Houston, TX; Leanne Sherman and Michael Sherman of Borger, TX; Aubrey Mayberry and husband Clay, Gage Jackson or Dodd City, TX; Jacob Figg of Allen, TX; Gavin and Aiden Owens of Dodd City, TX; J. D. Torres and Annabelle Pickering of Dodd City, TX; uncle, Weldon Riddle of Mineola, TX; nephew, Trent Fletcher and many cousins.
He is preceded in death by both parents; grandson, Clay Jackson and nephew, Larry Dale Partridge.
Serving as pallbearers will be Gary Fletcher, Jeep Gilmister, Lynn Partridge, Chris Jackson, Don Barron, Rick Owen, Cody Osborne, and Bobby Killion.
Visitation will be held Tuesday, January 9, 2018 from 6:00 p.m.-8:00 p.m. at Cooper-Sorrells Funeral Home Chapel Bonham, TX.
To convey condolences or sign an online registry, please visit www.coopersorrells.com