Local News
Fannin County Commissioners Court discusses Lake Fannin, courthouse restoration
Jan 11, 2018
Fannin County, Texas -- The regular meeting of Fannin County Commissioners Court held Tuesday, January 9, 2018 was fast-paced and businesslike, yet it also touched on many of the important issues of interest to residents: courthouse restoration, regaining access to Lake Fannin, the cleanup of an unauthorized dumpsite, and the effort to return rail traffic to Bonham.

The meeting opened with an invocation by Fannin County Treasurer David Woodson and the minutes of previous meetings on December 27, 2017 and January 7, 2018 were approved.

No one addressed the court in public forum.

Fannin County Commissioners Court unanimously approved the re-appointment of Tom Long, Randy McBroom and Dean Lackey to the Fannin Rural Rail Transportation District Board of Directors for a term beginning January 2018. This initiative is vital to attracting businesses and jobs to the area.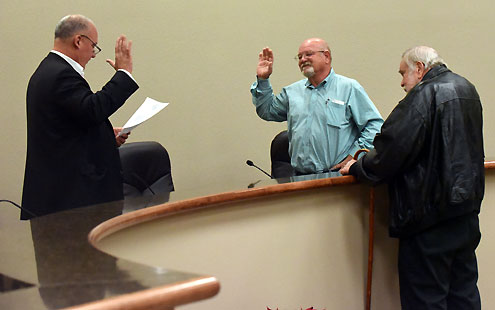 (L-R) Fannin County Judge Spanky Carter administers the oath of office to Dean Lackey and Tom Long, re-appointed board members of Fannin Rural Rail District.
An agenda item regarding employee parking at 200 East 1st Street was tabled in order to carefully consider options and the associated cost.
Commissioners approved the cleanup of an unauthorized dumpsite on County Road 4205 just east of Gates Hill Cemetery. Texas Association of Resource Conservation and Development Areas, Inc. proposed using SEP funds in the amount of $3,438 to remove trash. This particular dumpsite's proximity to Bonham has made it a regular target of illegal trash dumping.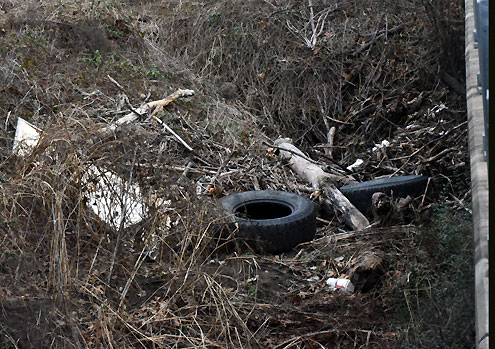 Illegal trash dumping on County Road 4205 south of Bonham.
Lake Fannin is back in the spotlight and residents should learn much more about this unfortunate impasse at the regular meeting of Fannin County Commissioners Court on Tuesday, January 23, 2018. Fannin County Judge Spanky Carter will travel to Washington D.C. next week to meet with representatives of the Forest Service and staff members from Congressman John Ratcliffe's office.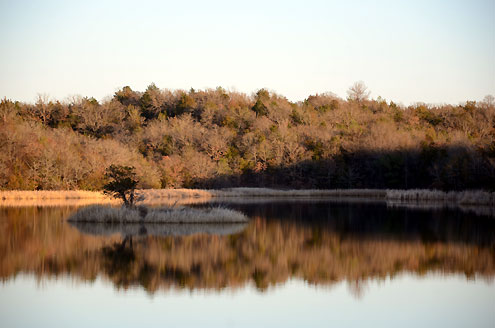 A calm day on Lake Fannin, a favorite destination for local kayakers.
In 2015, the Forest Service and Fannin County reached a tentative agreement that would transfer ownership of 340 acres, which includes the historic Lake Fannin campsite and four cabins built in the 1930s and restored by Lake Fannin Volunteers, back to Fannin County. However, a congressman from the Midwest has been allowed to block the transfer of ownership, even though the gate to Lake Fannin has been locked since 2013 and the hard work of local volunteers is slowly deteriorating.
Historic cabins, painstakingly restored by volunteers, require attention and the dam continues to be compromised by roots of the saplings now growing on the back of the dam. Regardless of who is ultimately responsible for Lake Fannin -- a place that earned a spot on the listing in the National Register of Historic Places -- the longer the gate is locked, the more difficult restoration becomes.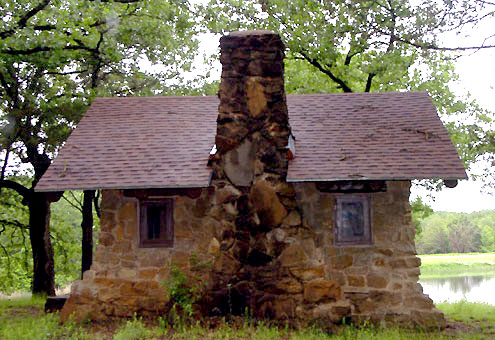 One of the historic restored cabins at Lake Fannin.
The tentative agreement worked out between the Forest Service and Fannin County pertained to the 197 acres around the lake where the historic stone structures and primitive campsites are located, as well as 143 acres on the slope down to Red River.
"Hopefully, when I come back from D.C., we will know a lot more about Lake Fannin," Judge Carter predicted.
Carter is expected to meet with Greg Smith – U.S. Forest Service's Director of Lands; Kevin Heikkila – U.S. Forest Service's Assistant Director of Land Ownership Adjustment; Scott Vandegrift – U.S. Forest Service's Legislative Affairs Specialist; and Robert Peters – Congressman Ratcliffe's Legislative Assistant who oversees Natural Resources and the U.S. Forest Service.
Fannin County Pct. 2 Commissioner Stan Barker gave an update on asbestos abatement at Fannin County Courthouse, where workers will complete the abatement process on the third floor this week before moving down to the second floor next week.
"Everything is going smoothly," Commissioner Barker reported.
Fannin County Pct. 4 Commissioner Dean Lackey reminded residents of Master Naturalist training coming up soon at Derrell Hall Education Center, and also of the Bonham Chamber Awards Banquet slated for February 3 at Fannin County Multipurpose Complex.