Sports
Bowen, Clark, Womack and 2005 Trenton Tigers to be inducted into Fannin County Sports Hall of Fame
Jan 27, 2018
Fannin County, Texas -- Beginning in 1992, Fannin County Sports Hall of Fame has been honoring outstanding athletes, coaches and teams of Fannin County. Fannin County Sports Hall of Fame is now home to well over 100 individual members and many of the legendary local teams.
The 2018 Fannin County Sports Hall of Fame Induction Banquet is slated for 6:30 p.m. Saturday, January 27 in the Bailey Inglish Cafeteria.
The individuals and team that will be inducted into the Fannin County Sports Hall of Fame at the Induction Banquet are Loy Dean Clark, John Womack, Katti Bowen and the 2005 Trenton Tiger Boys Basketball Team.
Tickets are $15.00 at the door. Children under 6 are free.
Katti Bowen
Katti Bowen graduated from Bonham High School in 2003. While attending Bonham High School Katti participated in volleyball, basketball, softball and power lifted. Softball was her favorite sport and she lettered all four years. Katti's primary position was pitcher and she started more than 75 games over her high school career and helped the Lady Warriors reach the playoffs in 3 consecutive years. Her junior year was her most dominate year as a Lady Warrior. She finished with a record of 22-10, with 228 strikeouts, 4 home runs and pitched the Lady Warriors to the State Quarterfinals for the first time in school history.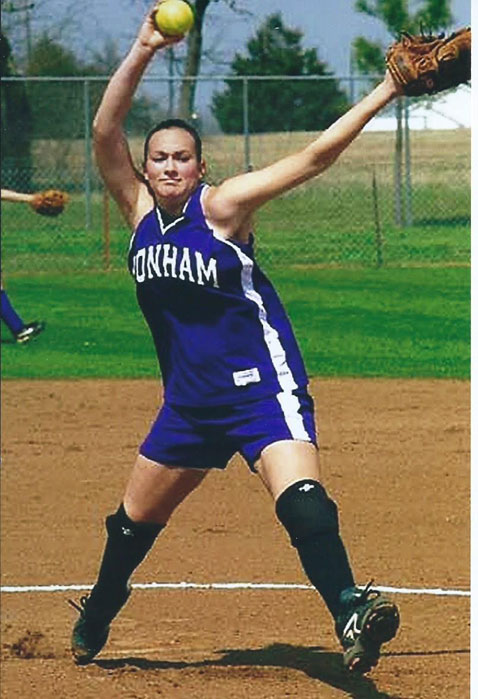 Katti Bowen
During her high school career Katti received numerous awards including 1999-2000 team Defensive Player of the Year, 1999-2000 2nd Team All-District, 2000-2001 Team MVP and 2nd Team All-District, 2001-2002 1st Team All District, District Pitcher of the Year, and Team MVP, 2002-2003 Team MVP and 1st Team All-District.

Katti began her club softball career playing for the North Texas Young Guns playing tournaments across the state of Texas. She then played for North Texas Storm. Storm placed fourth in 14U A State in Waco and 9th in 14U A AFA Nationals in Steamboat Springs Colorado. Storm then placed 7th in USSA 16U A nationals in Rockford Illinois. Katti completed her club softball career playing for Texas Blaze. Including her high school games it was common for Katti to play more than 100 softball games a year.
Katti achieved one of her personal goals when she received a scholarship to play softball at the University of Central Arkansas. She played three years primarily as a pitcher and designated hitter. One of her favorite memories was pitching two scoreless innings against the University of Oklahoma in Norman. A shoulder injury and opportunity to complete her degree on time resulted in her forgoing her senior year.
Katti began her coaching career fresh out of college as assistant softball coach at Nemo Vista High School in Center Ridge, Arkansas. During those two years, Nemo Vista won the Arkansas State 1A Championship in 2008 and they were runner-up in 2009. Katti was co-founder and co-head coach of the Arkansas Pride, a select team that played in tournaments across the nation. In the 3 years she was involved with the team every girl that played either received a college scholarship or had an opportunity to play in college. Additionally, Katti taught pitching lessons to numerous girls across the state of Arkansas.
Katti is the daughter of Randy and Kelli Bowen and sister to Kassi Lightfoot and Ryan Bowen. Her grandparents are Pat and Jo Bowen and Allen and Nancy Vermillion. Since graduating from Bonham High School, Katti has earned her bachelor's degree in secondary education, master's degree in school leadership, and Educational Specialist degree in school leadership from the University of Central Arkansas. She has her building level principal and district level superintendent's certification. She currently pursuing her Doctorate in Educational Leadership from Arkansas Tech University. Katti taught English for 3 years at Conway Junior High School and served one year as the District Technology Integration Facilitator. Currently, she is in her second year as assistant principal at Conway Junior High in Conway, Arkansas. Katti has continued her athletic endeavors by attending a Refine Active Health Crossfit.
Loy Dean Clark
Loy Dean Clark, son of the late Jo and Loy Clark of Honey Grove, was born in Bonham in July of 1950. Mr. Clark was raised in Fannin Country and attended Honey Grove Schools. He attended Honey Grove High School from 1964.
While attending Honey Grove High School, Loy Dean was successful in several sports. He helped the Honey Grove football team reach the playoffs each of the four years that he played. He played both quarterback and safety and was a three year letterman as well as an All-District player. He was also a three year letterman in basketball and helped lead his team deep into the playoffs for two years, where he averaged 25 points per game. His basketball team was State Runner-up in 1966, getting beat by Gruver by one point. Clark was selected as All-District for three years and All-State his senior year. He was also a two year letterman and regional qualifier in track.
After graduating from high school, Clark went to Paris Junior College on a basketball scholarship from 1968-1970. From there he went to East Texas State University in Commerce where he earned his bachelor's degree in 1972. He received his master's degree from ETSU in 1994. It was during his time at ETSU that he married his childhood sweetheart, Debbie Goss. They have one son, Chris, his wife Amber and grandchildren Madelyn and Connor.
Mr. Clark's teaching and coaching career began at Teague ISD. From there he went at Sulphur Springs ISD, Winnsboro ISD, and then Bonham ISD in 1983. He started the school year in Bonham as assistant football coach and, before the first semester was complete, he was the athletic director and head football coach. During the next nine years, he led the Warriors to the playoffs eight times with a record of 81-23-1. Also during his time as athletic director, the boys' basketball teams had several playoff appearances. There were multiple state qualifiers in golf and tennis, as well as district champs in boys track and a State Championship in girl's track.
He spent the next five years as an administrative assistant at BHS and ended his career there after five years as Bonham High School principal. He began working at North Lamar in Paris, Texas after he finished his tenure in Bonham. He is still there as an assistant principal at Stone Middle School.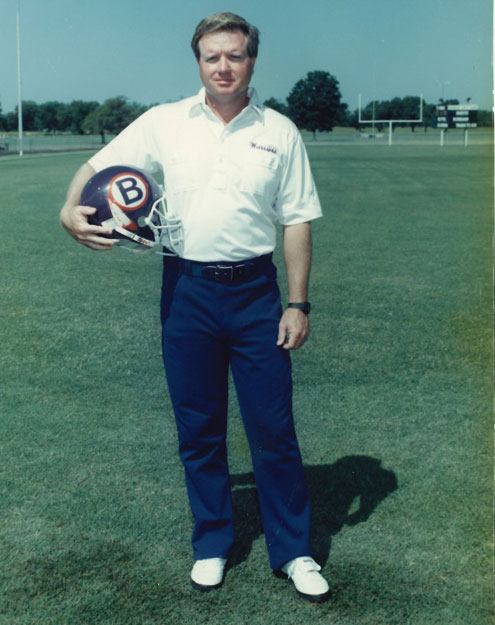 Loy Dean Clark
Even though he has been several places in his career in education, BHS will always be his home. The support from the community, BHS teachers and staff, players and fans will be a memory he will carry with him forever. The relationships that have been built with BHS players and coaches will always hold a special place in his heart.
Trenton Tigers Reach State Semifinal Game
The Trenton Tigers made school history reaching the State Semifinals in Class A Division 1 in 2005. The Tigers went 10 – 0 in district play and 30 – 5 on the season. Trenton defeated the Muenster Hornets 56 – 46 in the first round of the playoffs. The Tigers defeated a strong Rivercrest Rebels team 58 - 45, a team that went on to win a state championship the following year. Trenton took on Burkeville in the regional semifinals and came away with a narrow 49 – 47 victory. The Tigers met the #1 ranked team in Class A, Broaddus Bulldogs, in the regional finals. Trenton defeated them 53 – 50 in overtime. The Trenton Tigers would fall to the Snook Bluejays 50-47 in the State Semifinal game.
"It was a great ride the entire year for us," recalls head coach Rick Foreman. "The support we got from the community and neighboring communities was incredible."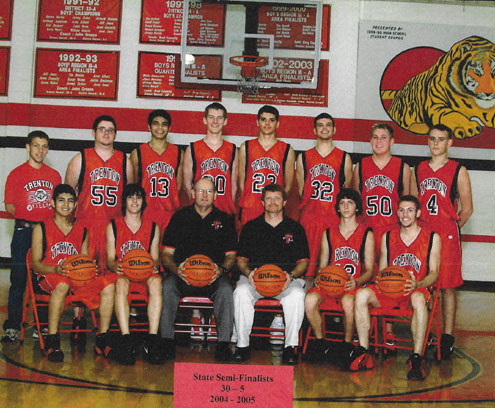 2005 Trenton Tigers
Members of the team include Craig Barnes – District Most Valuable Player, All Region and All State, Kyle Griffin – 1st Team All District, Kevin Dockery – 2nd Team All District, Michael Foreman – Newcomer of the Year, Ryan McTee, John Zoski, Edgar Marin, James, Gallini, Payton Lambert, Erick Medrano, and Austen Barnes. The Tigers were coached by Rick Foreman, Keith Kirkland, and Josh Weger.
John Womack
John Womack was a two-way starter on Bonham High School football teams, who was born and raised in Bonham, Texas. Womack started on the Warriors 1987 Bi-District Championship team and the Warriors 1988 District Championship team. While at Bonham, Womack earned All-District, All-Texomaland and All-State honors.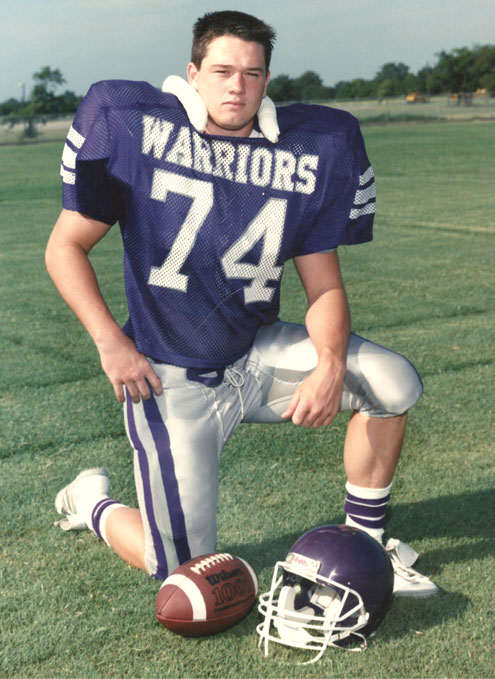 John Womack
Womack continued his football career at Austin College in Sherman, Texas. At Austin College, Womack was a two-time unanimous first team All-Conference linebacker, Conference Defensive Player of the Year, Conference leading tackler and two-time All-American with over 275 collegiate tackles. He also was a starter on the 1991 Austin College national playoff team. In 2016, Austin College inducted Womack into their Athletic Hall of Honor.
After graduating from Austin College, John joined the U.S. Army. Womack was the Honor Graduate of his U.S. Army Basic Training Class, the Honor Graduate of his U.S. Army Airborne class, served as Special Agent for the U.S. Army Criminal Investigation Command, and was hand-selected to serve on the security detail for the Secretary of Defense and Chairman Joint Chief of Staff. After leaving the Army, Womack was hired by the U.S. Department of Defense as a federal agent and subsequently attended the Federal Law Enforcement Training Center where he was the Honor Graduate of his class.
In 2004, Womack voluntarily deployed to Iraq during Operation Enduring Freedom and was awarded the Department of Defense Superior Civilian award and Defense Criminal Investigative Service Teamwork award for his service. In 2007, while an employee of the Department of Defense, Womack was selected to attend Georgetown University where he earned a Master's Degree in Public Policy Management.
In 2010, Womack accepted a position with NASA as an Investigator assigned to the Jet Propulsion Laboratory in Pasadena, CA. In 2016, Womack was named Investigator of the Year by the NASA Office of Inspector General. John resides in La Canada Flintridge, CA with his wife, Julie and their two children.
John credits his accomplishments for having played for two legendary head football coaches in Loy Dean Clark of Bonham High School, and Mel Tjeerdsma of Austin College.