School News
Dallas County Community College District offers drone pilot certification course
Mar 15, 2018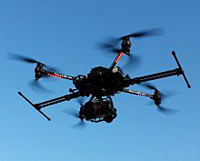 Dallas – Dallas County Community College District students – as well as hobby and recreational drone operators – can sign up for a three-day course, the Unmanned Aircraft Systems Drone Pilot Certification class, so that they will be prepared to take the Federal Aviation Administration's Remote Pilot Certificate exam.

The course will be taught Jan. 19-21, 2018, from 8:30 a.m. to 5 p.m. each day at the Brookhaven College Geotechnology Institute (H Building, room 113); the college is located at 3939 Valley View Lane in Farmers Branch. The cost of the class is $299, which includes lunch each day. (The course also will be offered again March 23-25, 2018, at the same location, time and cost.)

This course is a ground school class only. Students will learn critical thinking techniques for successful performance as a drone pilot. The drone pilot certification class will include (but is not limited to) these topics:

Day 1: learning styles, test registration requirements, testing materials, FAA introduction, exam materials;

Day 2: FAA regulations, remote pilot certification, crew support roles, accident reporting, operating limitations, rules for right-of-way, privacy considerations, airspace rules; and

Day 3: effect of obstructions of wind, fronts, mountain flying, low-level water shear, density altitude.

Students who successfully complete the course will be able to take the FAA written exam for the Remote Pilot Certificate; anyone who plans to operate a drone at her or his place of employment is required by the FAA to have that certificate.

Operators, whether or not they are licensed, must register their drones with the FAA. Visit the FAA website for details on drone registration requirements.

For more information, contact the Brookhaven College office of continuing education at 972-860-4600 or 972-860-4715.