Front Page
Collin County Master Gardeners Association to host 'Spring into Vegetable Gardening' Feb. 17
Feb 17, 2018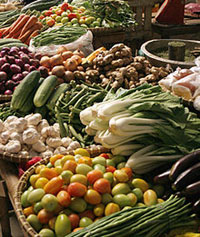 McKinney -- The Collin County Master Gardeners Association will host, "Spring into Vegetable Gardening" on February 17, 2018, from 8:00 a.m. till noon at the Landing at Myers Park & Event Center in McKinney, Texas. The focus of the program will be basic vegetable gardening in Collin County for beginners and backyard gardeners.

Vegetable garden experts will discuss the specifics of planning, designing, and planting a garden, the best plant varieties and the planting calendar for Collin County gardens. Attendees will learn about the importance of soil and soil preparation, how to grow vegetables in raised beds, containers and small spaces, plus learn "Everything You Want to Know About Tomatoes," how to propagate seeds, and more.

Demonstration tables will feature hands-on displays and will be manned by Master Gardeners and local experts who have expertise in vegetable resources, raised bed construction, vertical gardens, water conservation, drip irrigation, propagation, container gardening, insects/disease, and more.

Representatives from Texas Pure Products will be on hand with examples of various soil amendments and mulches.

Spend the morning session with Collin County Master Gardeners learning how to grow delicious, nutritious veggies, and stay for the afternoon session "Tree Care" seminar. Trees are a valuable part of the landscape, providing shade, improving air quality, preserving soil, and supporting wildlife. The program, from 1:00 p.m. to 4:00 p.m. will cover "Tree Care 101" presented by Urban Forester Mike Sills, and "Tree Diseases and Pests" presented by Consulting Arborist, Dr. Greg Church.

Register online at the CCMGA website www.ccmgatx.org. There is a $10 per person, per session, fee to attend. Seating is limited so registration is required to ensure enough handouts and goodie bags for attendees. Contact 972-548-4219, or visit www.ccmgatx.org for more information. Doors open at 8:00 a.m. on February 17, 2018 at the Landing at Myers Park, 7117 County Road 166, McKinney, TX 75071.