School News
One weld at a time: DCCCD program sparks new careers
Mar 14, 2018
Dallas -- One man's trash is another man's treasure. That's true, especially for people who decide to become welders. Whether their work is industrial, artistic or simply practical, welders look at the world and how it's put together with a different eye. They create or often repurpose old junk into new treasures. And they build skyscrapers, bridges, ships and houses, too.
Jose Murga, a student in the welding program at Eastfield College, knows that's true. He said, "Everything I see, I try to make better than the original."
That's why welding is both an art and a career for Murga, whose most recent project in the EFC welding lab – a three-piece clock – reflects his career path from Mexico to Texas and eventually to Canada. He started in Eastfield's program by taking the beginning/ safety continuing education class; he then transitioned to his credit courses. This spring, Murga will complete all three welding certificates offered by the college.
"I can build things, and I want to build with metal," he explained. "I've enjoyed my instructors, classes and the time I've spent at Eastfield. As soon as I finish here, I'll work in the U.S. for about six months (because companies require experience) before I go to Canada, where there are good jobs with good pay, too."
The clock on his lab desk – a large cog with 12 drilled holes, which hovers above a smaller, smooth-faced cog, both hung within a bicycle chain and parts he described as "scraps" – will remind Murga of Canadian and Mexican time while he works up north.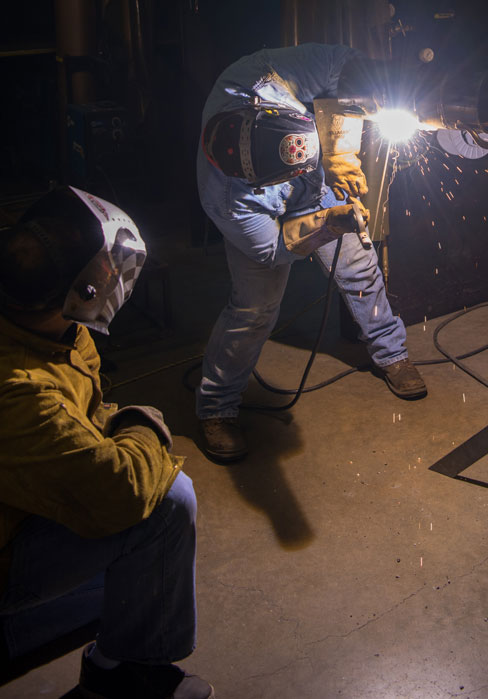 Trevor Quaid welds and Jose Murga watches.
He also took welding one step further with a rotating, 3D linear metal sculpture which he created, based on a 2D piece of artwork he saw in Arizona. "It took me about a week to build it in the lab. I repurposed the materials I used to create it, and I added a stand and a motor," said Murga, who sold it immediately. "I loved the challenge."
Welding: High demand, high interest
A combination of metal, sparks, fire and flame – plus the ability to make something useful or creative – attracts students to welding, which pays well, too. From Canadian pipelines to cruise ships in Hawaii...from skyscrapers in Dallas to the oil fields of East and West Texas, Eastfield welding students plan to go places and put their skills to good use.
They also appreciate the experience that faculty members Jeff Mitchell and Phil Suderman bring to class, representing the creative and practical sides of welding.
"Welding touches everything you do, from vehicles to supplies to water and fuel," said Suderman, who started as a photographer and went back to college to earn a degree in welding. "You need good hand/eye coordination, a positive attitude and a good work ethic. You also need creativity – taking something old, refabricating it and making something new out of usable parts and metal because you see something new in it."
Mitchell agrees. "Welding is part of everything we touch. Students need to know how to weld correctly and do it that way on every project they undertake. They must have a 'can do' attitude. Our program focuses on the fundamentals of welding, which is both a craft and an art. We judge welds by how they look and whether they're done right," he said.
Mitchell, who began teaching in the welding program at Eastfield in 2010, started out as an instructor in auto body technology at the college and taught auto body welding. The demand for welders has only grown since then.
The college offers welding classes from 8 a.m. to 10 p.m. during the week in four-hour blocks. Mitchell added a Friday/Saturday class this spring to meet demand. After taking their introductory class, students can earn certificates in gas metal arc welding (GMAW), shielded metal arc welding (SMAW) and gas tungsten arc welding (GTAW).
Earning all three certificates takes an average of two years (three credit classes per certificate), but courses are self-paced; some students finish more quickly, while others (usually evening students) take fewer classes because they work full time. Women also enroll in the program; two are taking classes this spring. The EFC welding program also enrolls dual credit students from area high schools; they take afternoon classes to earn high school and college credit.
"Most students are transitioning from another field of work. Very few come to the program with any welding experience," said Mitchell. "After our students finish those certificates – which make them even more employable – we encourage them to transfer to Mountain View College, where they can earn an associate degree in welding technology. That degree will help them qualify for jobs like inspections and supervision."
Students make a small financial investment when they start in Eastfield's program. They pay for their own personal protective gear (their PPE): a helmet, jacket and some tools. EFC provides consumables and most tools. No extra fees are required.
Not just a career: A calling
"Many people are familiar with soldering. They use it in crafts or simple household repairs. Welding, however, is soldering on a giant level," laughed Mitchell, who understands what attracts his students to welding – the sparks, fire, metal, challenges and job opportunities. Students Francisco Pacheco and Trevor Quaid agree.
Pacheco, who is a lab assistant, fixes equipment, demonstrates welds and invents creations. Unlike most other students, he started welding in high school. His teacher recommended the EFC program. Pacheco has completed his certificates, transferred this spring to Mountain View to earn his associate degree and will pursue a bachelor's degree. Last year, he helped design and build a portable welding unit for the EFC lab.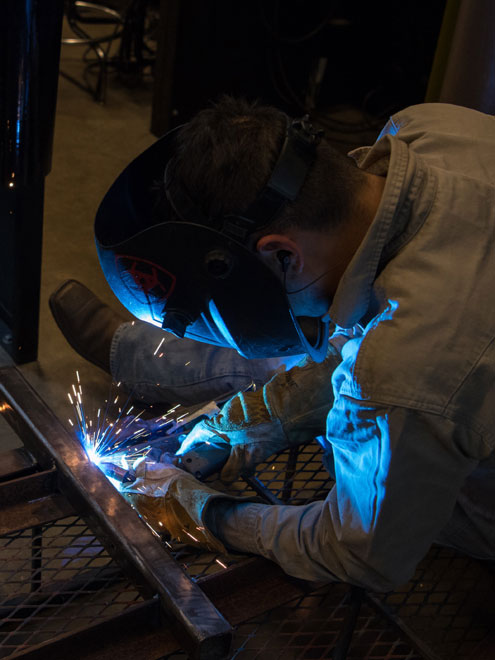 Francisco Pacheco works on a welding project at Eastfield College.
Pacheco said, "I like working with my hands, and I want to be out in the field on big projects. I left an $8-an-hour job to learn something here so that I can get a job with starting pay of at least $11 to $14 an hour. I'm getting the learning skillset here that I'll need in the future." His career plans include pipelining or industrial work.
Quaid hadn't considered welding as a career until his uncle suggested it. "I did some research. It looked like fun, so I decided to try it. I haven't looked back," said Quaid, who wants to go into structural welding in the Dallas area. "I want to stay local and work on welding buildings way up high. Money makes you do crazy things!"
Quaid added, "A lot of jobs are available in Dallas, Plano and Frisco on buildings and bridges. From my first day at Eastfield, I haven't regretted a single day. I'm challenged here. It's fun. I get to play with fire and metal. It's why I like welding. I can create things."
Welding: A career change
Jon Greuel, a retired U.S. Air Force pilot, has switched gears, literally, from the cockpit of a sophisticated aircraft to the metal-and-sparks welding lab at Eastfield, transitioning from one career to another, using his GI Bill to go to school only two miles from home.
"I love working with my hands," said Greuel. "I love welding, and Eastfield is the first school (I've attended) that doesn't feel like school. I've always enjoyed making things. Wood is wonderful to the touch; it's warm but its joints are weak. You have to do something very strong with steel. By combining the best properties of metal and wood, our creations can last for generations."
Greuel, who would like to see EFC add fabrication classes to the welding program, says, "I'm often the last one to leave, and I'm grateful that this program exists. We all need to build things and tap into our creativity." One of Greuel's favorite welding projects is a metal bed he made for his daughter; it was "bounce-tested" by his six-year-old son.
Welding: Good money, great opportunities
Welding jobs in North Texas offer an average starting salary of approximately $25,000, with room for growth and higher salaries for advanced skills. Texas has the highest employment levels nationally for welders; the statewide annual mean wage is $45,000.
Welding programs are offered by three DCCCD colleges: the Bill J. Priest Institute, Cedar Valley College (continuing education only); Eastfield College (three credit certificates); and Mountain View College (an associate degree in welding technology).
For details about DCCCD's three welding programs, contact: Jeff Mitchell, Eastfield College – JeffMitchell@dcccd.edu; 972-860-7066; Ron Henderson, Mountain View College – RonHenderson@dcccd.edu; 214-860-8768; and Byron Zarrabi, Bill J. Priest Institute/Cedar Valley College: bzarrabi@dcccd.edu; 214-860-5880.