Sports
Bonham VFW Post 4852 to sponsor golf tournament May 21
May 16, 2018
Bonham, Texas -- Bonham VFW Post 4852 is located at 1610 Mitchell Drive at Lake Bonham. Things are happening at the VFW!
May 21 Golf Tournament - www.getmeregistered.com/Forethevets

Things are happening at the VFW!
For more information, please contact
Bonham VFW Post 4852 at (903)-583-5733.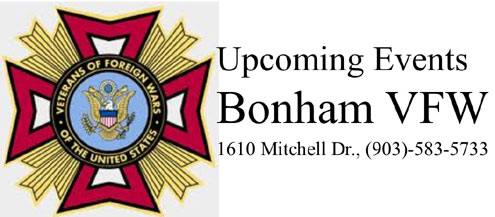 Did you Know?
As the nationís oldest major veteransí organization, the VFW has an impeccable and longstanding record of service and stewardship. More than 4 million patriotic Americans, both members and non-members, entrust the VFW with financial contributions and dedicate millions of volunteer hours. Our local Bonham, James E. Bragg VFW Post 4852, has been a long- term staple in our community since 1945- offering many services for our local Vets as well as contributing to our community including:
∑ Advocates for Veterans Benefits-Local, State and Nationally
∑ Assist Veterans with Financial Aid for Bills and Homelessness
∑ Assist the Veterans in getting help for Depression/Suicide
∑ Operates a Food Pantry for the needy LOCALLY
∑ Assists the VA financially for quarterly vet events
∑ Supports the local Scouts
∑ Sponsors local school events/Athletics
∑ Supports local community events
∑ Offers scholarships to our local kids
∑ Has both Toy and Food Drives for our locals
∑ Donates meals at holidays to needy families
∑ Offers assistance to Veteran homes as needed
∑ Assists VA with commissary vouchers
∑ Donates motel vouchers to Vets during medical testing
And much more- supporting your local VFW Supports your community!
For more information on joining the VFW or for Volunteer Opportunities contact Post 4852 at (903)-583-5733.
Veterans of Foreign Wars Post 4852
1610 Mitchell Dr., Bonham, TX (903)-583-5733