Local News
BEDCo & City of Bonham officials hosts local manufacturers
Feb 8, 2018
Bonham -- On Thursday, February 1, BEDCO and City of Bonham officials hosted local Bonham manufacturers, major employers, support staff agencies and private sector representatives for a roundtable discussion focused on key topics of shared mutual interest. This was the ninth such meeting since this venue -- the Bonham Manufacturers Roundtable -- was launched back in 2014.
Bonham Economic Development Executive Director Steve Filipowicz opened the program by observing that this 2018 kick-off session in many aspects is a re-creation of the first Roundtable right down to the host site, The Breakfast Stop and catered pork loin roast lunch prepared by Brenda & Wayne Moore. Filipowicz went on to note the number of participants had grown significantly, and this year marks Bonham's first as a "Triple Freeport" community which brought on a spontaneous round of applauds.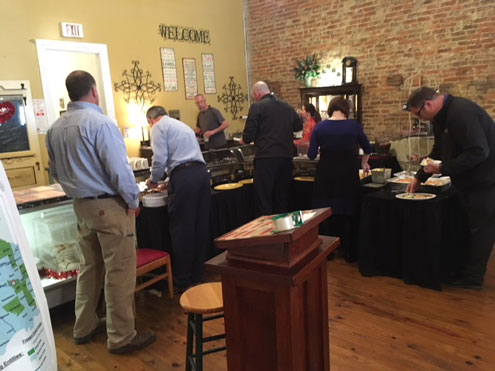 Bonham Mayor Roy Floyd then officially welcomed all the attendees and outlined the session's program. Following lunch and round-robin introductions by the participants, Department of Veterans Affairs (DVA) – Sam Rayburn Memorial Vets Center Chief Administrator James Douglas shared bittersweet news that he has accepted a new assignment & career promotion with DVA in a Reno, NV facility. He will be departing Bonham in about two weeks. Mr. Douglas went on to praise the professionalism and commitment to serve our nation's veterans as demonstrated every day by the 800 employees here at the VA's Bonham facilities. He also had kind words for the support he has received from Bonham city officials and staff as well as the entire Bonham – Fannin County community.
TCI Cable's Jeff Almendinger next addressed the roundtable regarding the on-going workforce housing shortage and its adverse impact on industry's ability to recruit and retain skilled workers and managers. In particular he observed the added challenge that a lack of quality workforce housing imposes on Bonham ISD's ability to retain teachers and coaches. He recapped the proposal Bonham received from axianomics, LLC to develop a Bonham Housing Action Plan and suggested a broad-based consortium of Bonham manufacturers join together to underwrite the $14,000 cost. Several roundtable members expressed interest at reviewing the proposal and their willingness to consider participation.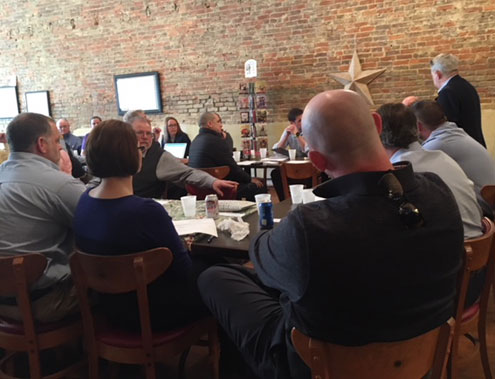 Bonham Mayor Roy Floyd addresses the group.
The next two topics continue to draw keen interest from a number of roundtable members: Kenneth Walker, General Manager for CableOne shared details of their investments to upgrade the local internet network and the phenomenal growth rate (over 30%) in demand for high-speed business internet services. Walker was joined by his Technical Operations and Customer Service Managers for Bonham. He was followed by Kenny Day, Maureen Byrne and Jeffrey Van Schaick representing Genesee & Wyoming Railroad ( G&W) and its subsidiaries that are the short-haul railroad with the freight rail track rights to serve Bonham. While no estimated date of restored freight-rail service has yet been set, discussions continue as G&W actively seeks a viable funding formula that would then trigger the private investment to rehab the track from Bells eastward to Bonham.
Kristi Lee of Workforce Solutions Texoma, BISD Assistant Superintendent Faith-Ann Cheek and BHS CTE Coordinator Shelby Lowery next spoke of joint efforts with local industry for potentially launching a number of accredited internships or apprenticeships for students in locally 'high demand' occupations. The dialogue with local manufacturers and BISD continues next week (February 9), in the meantime firms are encouraged to provide their input to Shelby Lowery at BHS.
Batting clean-up, Bonham City Manager Sean Pate recapped a number of city priority infrastructure projects and strongly encouraged representatives of the Bonham Mfgs' Roundtable to review the Visioning Bonham 2017-2025 Plan and consider participating in one or more of the implementation working groups..
Local firms attending the February 1 Roundtable included 4R Coatings LLC., Clayton-Bonham, Kelso Technologies, Lone Star Reel, Renlita, TCI-TransCable International, and VPG. Three other firms had planned to attend but flu and other last minute circumstances precluded their participation.
Support agencies present included BEDCO/City of Bonham, BISD, CableOne, DVA-Bonham, G&WRR, TCOG, TMAC, TMC-Bonham, Workforce Solutions – Texoma, and an unpaid community "social media" volunteer.
No date was set for Roundtable # 10 but April-May is the next likely timeframe.