Columnists
Crow's-Feet Chronicles: How sweet it is!
Feb 12, 2018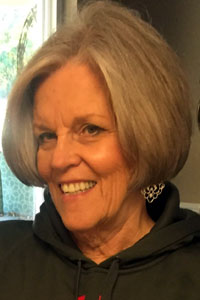 Valentineís Day is a perfect time for a homemade sweet treat for the sweetheart in your life. Iím making Danger Pudding for Lanny this year. For the uninitiated, Danger Pudding is made with a can of sweetened condensed milk. I donít know about you, but I can get happy just thinking about eating an entire can of Eagle Brand, just as it is, right out of the can. When I was little, my mother used to give me a whole can of sweetened condensed milk to eat, all by myself, on my birthday; it was basically what I lived for every year.

To make Danger Pudding, take the can, and without opening it, boil it for an hour or so. Now, the people who make sweetened condensed milk are hip to this, and they say flat-out you shouldnít do this, ever. They feel so strongly about it, they actually print this warning right on the label: ďDanger! Do not heat unopened can!Ē So be forewarned: Youíre risking your life and assorted kitchen parts by doing it. In my opinion, however, itís worth the hazard. All that sugar caramelizes, and it has about nine jillion fat grams, and this is why itís such strong medicine. You can actually make Danger Pudding with the fat-free sweetened condensed milk, and this will do if youíre artery-conscious. But you shouldnít do any of this yourself because you could be killed. Come by my house, and Iíll make it for us. Iím very brave.

A surgeon generalís report ranked Texas really highóin the fat demographics, that is. We finally reach the top of a national list, and look at what it is. The rest of the country is praying that we donít fall off and smash them. I personally have done my part to maintain our high standing in this regard. I generally eat like thereís no tomorrow or at least no lunch tomorrow. We canít just rest on our fluffy laurels and hope to keep this high rating, however. Weíll all have to participate. Hereís another Valentine idea for anybody having trouble keeping on those precious pounds: Mimiís Butterfinger Cookies. I think itís the combination of sweet and salty that makes this dish so completely irresistible.

Youíll need 1Ĺ cups of sugar, 1 1/3 cups of dark brown sugar, a stick of butter, 4 eggs (I thought about using just the whites, but when you read the rest of the ingredients, this seems laughable, like ordering everything on the menu but putting Equal in your teaóto save calories), and 3 running-over teaspoons of vanilla. Mix well. Then dump in 2Ĺ cups of chunky peanut butter, and stir well. Add 2 cups flour, a teaspoon baking soda, and Ĺ teaspoon salt. Work into mixture.

Now itís Butterfinger time. You can either use the BBs, which are really easy to handle, or you can use regular Butterfinger candy barsóabout 20 ounces. Cut them up and add to the whole wondrous conglomeration. Drop teaspoon-sized blobs on a lightly greased cookie sheet, and bake them at 350 degrees for 7 to 9 minutes.

If you donít feel your arteries closing quickly enough, add more butter.