Columnists
around here with allen rich...hail to the queen
Feb 9, 2018
The year was 1973.
Secretariat wins the Triple Crown. The Watergate cover-up is slowly bringing down Nixon. Jim Croce's plane crashes on the way to Sherman for a concert at Austin College.
And Kathy Williams was the reigning Bonham High School Homecoming Queen.
I was always so proud that she was homecoming queen for the Class of '73 and I am glad I got a chance to tell her. There was nothing pretentious about Kathy, as we called her back then. My homecoming queen wore lace-up hiking boots and I loved her for it. Even more than that, I respected her for daring to be herself. If that sounds easy to you, you've forgotten what it's like to be 17.
Many years later, after the big high school game had rolled around one autumn, I emailed her.
"Y'know, I can still see you and Tommy standing on the 40-yard line in front of the homecoming crowd," I told her. "All the homecoming queens are wonderful and they are all beautiful, but I will never forget how intensely proud we all were that you were our queen. You were so independent and so special and you always will be to me."
Until I reminded her, I don't think Kathryn knew what a unique shining star she will forever be to the Class of 1973.
Kathryn was also an amazing member of the cast of my high school newspaper, The Totem Pole. That newspaper staff has already lost Chris Jones as well as, in all honesty, the finest preacher I will ever hear on this planet, Kirk Jones. The 1973 Totem Pole Staff was the original Not Ready For Prime Time Players before any of us had ever even heard of prime time.
Then, one day I look up and I'm pushing 60. Forty years have flown by and now I'm pouring everything into the hardest challenge of my life -- making a local hometown online newspaper work. Working right beside me in a virtual sense was my pal from that high school journalism class, Kathy...only now she preferred to be called Kathryn and she published a weekly cooking column called Kathryn's Texas Kitchen in North Texas e-News. We joked that our high school journalism teacher, Mrs. Morgan, would have gotten a great laugh out of all this.
After high school, we all scattered out of Bonham like our heads were on fire and our tails were catchin'. I headed north to New York for four years in the military. Kathryn went to ETSU briefly and then down south to The University of Texas in Austin.
It would be 30 years before North Texas e-News would rise out of the ashes of the venerable Bonham Daily Favorite.
To the best of my knowledge, Kathryn was the only E-news staff member with a degree in journalism. And it wasn't just any degree, she would be very quick to point out. It came from her beloved University of Texas at Austin.
Kathryn's role as culinary columnist brought her back to Bonham in 2008 as one of the judges of a dessert contest. Back in the archives of e-News, I found a photo of Kathryn visiting with her mom, Mary Ann Williams, before the contest.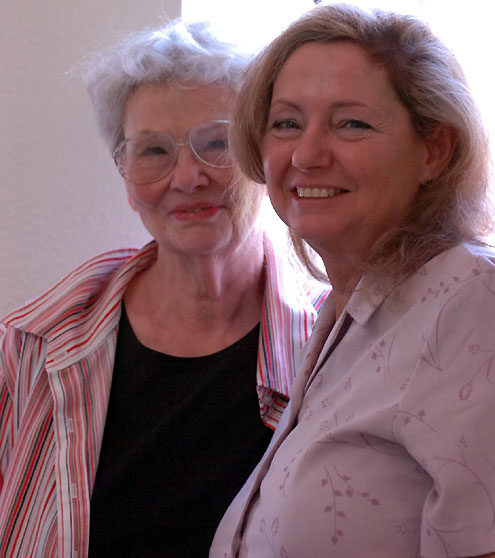 Kathryn always loved the girls she went to school with...her "Bonhi chicks." They felt the same way.
If I live long enough to look at that spot on the 40-yard line again, I'll remember a classmate who was as kind and gentle as she was beautiful -- the 1973 Bonham High School Homecoming Queen, Miss Kathy Williams.
Hail to the queen.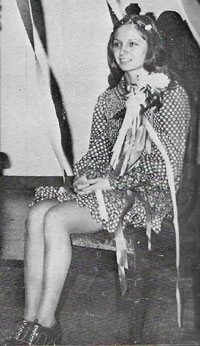 Time it was
And what a time it was, it was
A time of innocence
A time of confidences
Long ago it must be
I have a photograph
Preserve your memories
They're all that's left you.
-- Paul Simon