Obituaries
William Harold Gilbreath
Feb 8, 2018
Bonham, Texas -- Funeral services for William Harold Gilbreath, 87, of Windom, Texas will be at 2:00 p.m. on Saturday, February 10, 2018 at Cooper-Sorrells Funeral Home Chapel Bonham, Texas. Bro. Judson Strawbridge and Bro. Morris Robbins will officiate. Interment with military honors rendered by the United States Navy honor Guard will follow at Smyrna Cemetery. Mr. Gilbreath passed away on Tuesday, February 6, 2018 at the Sam Rayburn VA Community Living Center in Bonham, Texas.
William Harold Gilbreath was born in Windom, Texas on February 19, 1930 to Jesse and Josie (Hill) Gilbreath. He married Joan (Smoot) Gilbreath on December 26, 2002 at Windom Baptist Church. William served honorably in the United States Navy from 1948 to 1952. He was a fork lift driver for American Can Company Assembly for 30 years before retiring. William was a hardworking man; after retiring dads love was his garden. Him and the garden hoe and his four wheeler was his best friend, never caught him outdoors without carrying his hoe or being on his four wheeler. He was a member of Windom Baptist Church.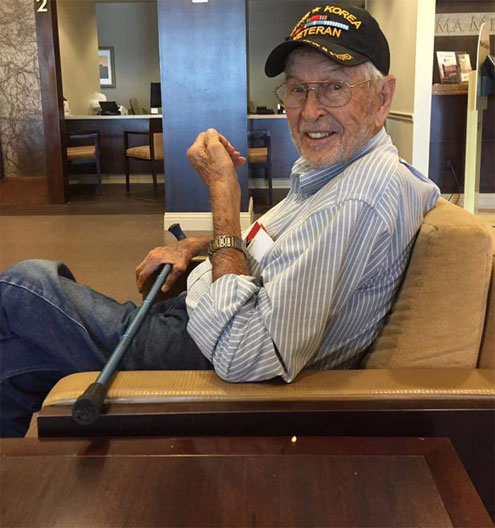 Left to cherish his memories is, wife, Joan Gilbreath of the home; daughters, Sharon Lowe of Arlington, TX and Kay Gilbreath of Bells, TX; 4 grandchildren, Kalub Nelms, Angela Krattli, Scott Mitchell, and Kelsi Jane, 9 great grandchildren; brothers, Carlton Gilbreath of Allen Chapel Community and Joe Pat Gilbreath of Yukon, OK, and numerous nieces and nephews. Also surviving him are SPECIAL Extended Family members, Mark Gilbreath of Windom, TX; Donna Tredway of Blossom, TX; and Robert Gilbreath of Lake Lavon, TX. Preceding Steve Gilbreath
Preceding him in death are his parents Jesse and Josie Gilbreath; first wife, Patsy Marie Gilbreath, and son Jeff Gilbreath.
Pallbearers will be Scott Mitchell, Kalub Nelms, Austin Mitchell, Mark Gilbreath, Keith Gilbreath, and Ben Taylor. Serving as honorary pallbearers will be Billy Suitor, H. B. Sadler, Tom Jackson, and Robert Gilbreath.
Visitation will be held on Friday, February 9, 2018 at Cooper-Sorrells Funeral Home Chapel Bonham, Texas from 6:00 p.m. to 8:00 p.m.
In honor of Mr. William Harold Gilbreath, donations can be made to a charity of your choice.
To convey condolences or sign an online registry, please visit www.coopersorrells.com