Columnists
Crow's-Feet Chronicles: These string instruments never fret
Feb 19, 2018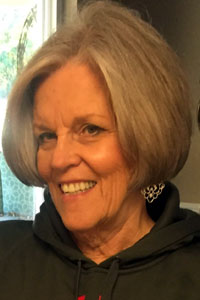 Getting my cowboy husband to take me to the symphony required (a) finding an orchestra in Cowtown (Fort Worth), (b) tempting him with a Blackened Buffalo Rib-Eye steak at Reata Restaurant, and (c) letting him wear his boots and Wranglers.

There were more coats and ties than Stetsons at Bass Hall, but I didn't care. I was going to enjoy "The Fifties: The Golden Age of Black & White" with the Fort Worth Symphony Orchestra, and I felt I was slathering my body with suds of culture. From the crowd of much older people, I had the first impression that the concert was not for us. Once the music began, however, I changed my mind.

The upper-level Mezzanine seats were affordable, but the front row could well have been a window-cleaning scaffold on a skyscraper's 96th floor. I could see myself toppling over the railing and splattering across pleated skirts and strands of pearls. Gingerly, I crawled to my seat and was prepared to bow my head during intermission and crawl back to the lobby after the final Elvis medley. With my body smeared into a taco shape, I assaulted the arms of the theater seat with a death grip. The rest is a blur.

Some things are sacred to Americans, and patriotic protocol is second nature. But when the orchestra began the concert with "The Star Spangled Banner," I clenched the seat with my trembling buttocks and sank deeper into the cushion. "Cindy," Lanny said, as he grabbed the sleeve to my jacket and uprooted me, "it's the National Anthem. Stand up!"

I stood long enough to wiggle from my jacket and slink back into my fetal position. There Lanny stood, proudly singing "The Star Spangled Banner" while holding the dangling sleeve of his imaginary wife.

The orchestra took my mind off my fear of heights with "Song from Moulin Rouge" and "Cry Me a River." It was like falling in love all over again with the theme from "A Summer Place." One thing that I found funny about the conductor was that he acted like a host from The Price Is Right, showing off a new car after each song was completed.

I loved the harp. Thinking back, I believe all harpists are gorgeous. They often look good into their late eighties. No doubt, they spend their time perfecting their eye-batting, little-lost-lamb look so they can snare unsuspecting wind players into carrying their heavy gilded furniture. If I could choose any concert instrument to play, though, I'd choose the cello---it would hide 80% of Cindy.

Sure, Beethoven had an ear for music, but Mark Twain made the astute observation: "Richard Wagner's music is better than it sounds." At the close of the concert, Lanny Joe said, "Although the concert was long, it didn't seem like it. I liked the variety of 50s music. It wasn't just piano banging or music that put people to sleep---it was a good combination of both."

I'm hoping that Lanny will treat me to another evening where the conductor turns his back on the crowd. In the meantime…

Gone Chopin. Bach in a minuet.